What type of hosting is the best for WordPress sites?
When you running a WordPress website, you also have to take into consideration what type of hosting is going to work best for your site. There are numerous options to choose from and that makes a hard for you to select the right one.
Choosing the perfect hosting fit will often lead people to use their own Linux server. For those who want an easier way out and don't have the experience setting that up, a virtual private server, cloud hosting, or dedicated option is typically where the debate ends up.
WordPress hosting works perfectly fine with each of these options, but certain ones will work better for your different projects. We will show you the differences between shared hosting, VPS, dedicated servers, and cloud server in regard to what will work best for WordPress users.
Fast-loading sites and scalability by using cloud hosting. It uses a bunch of servers, the content is stored redundantly, you can use as many resources as you need, and you won't have to worry about excessive traffic slowing the site down.
This means that security is not a number one priority and your site could be affected by others on the hosting. It's also a bit tricky to use unless you're a natural in the tech world.
Dedicated servers refer to getting your server without anyone sharing the server with you. You are essentially renting your space and the resources for yourself making it great for those that need more security, the ability to change all of the settings, and the ease of use without needing to share it with others.
It's not as affordable and can be stressful if something goes wrong since you're the only one that will come to the rescue and fix it. It works best for those that need their WordPress site to have the most security, they use many pages on the site, or they need several plugins.
If you like the idea of saving money and don't mind sharing your server with others, shared hosting is the most affordable option starting as low as you can think.
The hosting company will set up a server and create an account for each customer to pack as many people into the server as possible. This means that you have to share resources with others on the server, but it also means most of the tools are installed for you. It's really easy to get started with and use, but you'll be limited when it comes to settings access and the number of resources you can get.
A great option in the middle of all of these options is a virtual private server, similar to shared hosting and dedicated hosting. It's similar to renting an apartment in which you'll have other neighbors in the same building, but you'll have your portion of the building for yourself.
This means that you can easily upgrade your plan as you see fit, you can access all of the settings, you'll have more resources at your disposal, and it's decently affordable compared to a dedicated server.
Frequently Asked Questions
Q1. What type of hosting does WordPress use?
Q2. What is hosting in SEO?
SEO hosting involves storing a website's data and files in a manner that maximizes its search engine rankings. It refers to the practice of optimizing website hosting to enhance its visibility and performance in search engine results. Website hosting, on the other hand, entails acquiring or renting space on the World Wide Web to store and make a website accessible.
Q3. What is hosting vs. domain?
The main difference between domain and hosting lies in their respective roles. A domain serves as the address that enables visitors to locate your website online effortlessly, whereas hosting pertains to the storage location where the website files are kept. To have a fully operational website, both components are necessary a domain for identification and a hosting space for file storage.
Summary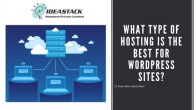 Article Name
What type of hosting is the best for WordPress sites?
Description
It depends on project requirements & project needs. Certain ones will work better for your different projects. There are many hosting services present. Cloud Hosting, Dedicated Servers, Shared Hosting, VPS, WordPress Hosting works perfectly fine with each of these options.
Author
Publisher Name
Publisher Logo