High Bandwidth Dedicated Server India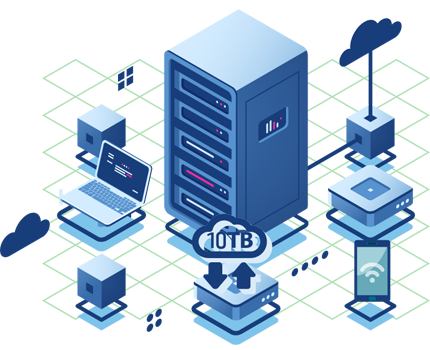 Why high bandwidth
dedicated server hosting?
1.

High bandwidth servers are dedicated servers with 10 TB bandwidth

2.

Do not worry about paying extra for Bandwidth Overage comes with 10 TB bundled

3.

High Bandwidth Dedicated Servers come with 1 Gbps port speed with no Capping
Choose Our High Bandwidth
Dedicated Server
Ideastack Provide Top Notch High Bandwidth Dedicated server with 10Tb Bandwidth to handle high traffic we use 10 gig  Cisco switches to ensure you do not face any packet drops during your peak loads.We use brand new hardware with IPMI RPS and Hot Swap Drives to ensure your application is always up and running
All of our High Bandwidth dedicated servers are supported by optimized and redundant networks. Each configuration is customizable to fit your needs with no long-term contracts.
DUAL CPU PLANS
| Core | CPU | RAM | DISK | BANDWIDTH | SUPPORT INCLUDED | PRICE | |
| --- | --- | --- | --- | --- | --- | --- | --- |
| 12 Core | E5 2620 v3*2 | 32 GB | 250 GB SSD | 10 TB | BRONZE | $267/Mo | BUY NOW |
| 16 Core | E5 2670*2 | 64 GB | 250 GB SSD | 10 TB | BRONZE | $307/Mo | BUY NOW |
| 20 Core | E5 2680 v2*2 | 96 GB | 250 GB SSD | 10 TB | BRONZE | $333.33/Mo | BUY NOW |
| 24 Core | E5 2678 v3*2 | 128 GB | 250 GB SSD | 10 TB | BRONZE | $373.33/Mo | BUY NOW |
If you're looking for a customized server ideastack will help to get your own custom build server
Why do you need a
higher bandwidth Dedicated server with 1 GIG Port?

Enterprise-Grade Dedicated Servers
We provide enterprise grade dedicated servers with the latest Intel processors, state of the art networking infrastructure For highest reliability & speed. Our high bandwidth Dedicated servers are optimized to handle real-time application load seemlessly to improve overall performance.

Blazing Fast Data Transfer
Our high bandwidth dedicated server comes with 10TB transfer and 1 gig port speed to transfer data at blazing fast speeds for faster application performance
Things you must consider while buying a dedicated
server with high bandwidth?

Control panel Setup and Management
Basically helps users to configure and monitor almost all aspects of running a website which uses Windows as its operating system.

Unlimited OS Reinstall
Can reinstall any version of any operating system available.

Proactive Management
All the Services installed in the VPS will be Under Monitoring by our Team.

Fully Managed Support
Our expert support team will handle every single aspect of the server setup, monitoring and maintenance, as per your requirements.

Technical Support
We provide efficient technical support. Clients can connect with our experts when required over the call, email, or b live chat.

Security And Hardning
Optimized the security of the server such assetting hard password, ip security and other security services to protect the server from hackers.

Backup
Our systems can be set up for scheduled auto backup at specific intervals of time. You can choose a schedule that fits your business data backup needs.

High End Technical Specifications
Our managed servers are powered by Intel Xeon HyperThreaded processors, DDR4 RAM & Enterprise SSD drives.

Server Optimization
Server optimization can help deliver this level of performance through the consolidation of resources and the reduction of excess expenditures.
Extra Features we'are Providing
Know More
About Ideastack