What Is The Difference Between Dedicated Server & Shared Server 
Web hosting is the support for any website or web portal to have a presence on the World Wide Web. This is the first step that the companies and businesses must look into in order to create visibility and a web presence on the internet and the search engines.
There are different kinds of servers that have a different set of properties. The two main kinds of servers are shared hosting servers and dedicated hosting servers.
What are the differences between dedicated server vs shared server?
A dedicated web serves includes the resources dedicated to a single or particular client. In this server, the client owns all the resources. A shared server whereas is shared by many servers all at once.
A dedicated server hosting provides the liberty to have full control over the server. It can be used in whichever way the client wishes. A shared server consists of different users and though it provides liberty, in comparison to a dedicated server, it does not offer too much freedom on the server while the resources are shared.
A shared server has several domains hosted on it and a dedicated server has only one domain featured on it. Many websites present on the server share the server's resources. It gives full control to the client over the folder and everything in it.
A dedicated hosting server allows for more optimization than a shared server. Dedicated server has higher speed and customization when compared to shared server. A dedicated server provides more technical support team and system administrators than a shared server.
However, this does not mean that a shared server does not provide the same. In fact, a shared server seems to be a better option for small businesses.
Dedicated server and security
In a dedicated server, a client gets more security compared to a shared server. It gives the user complete control over the website and hence pays attention on the security of only a particular user's website. The IP address on a dedicated server is of the particular website whereas, in a shared server, different websites use the same IP address.
Since a dedicated server kind of provides services solely to a particular client, it is usually more expensive while a shared server is quite cheaper.
What factors should one consider before choosing a web hosting server?
There are several factors that one must consider before choosing any platform for one's business or website. Security should be the utmost priority of any business owner. They should focus on maintaining their security and data protection for better performance.
As a dedicated server is more private, holds only one business's website, and is more suited for websites who wish to get a heavy amount of traffic, one could go for it. But if a business is still new and has a limitation in the budget, they could go for a shared server as it is cheaper and also helps in boosting traffic and increasing web presence.
Both the web servers have advantages and some limitations, but it all depends on the client's requirements. To know more contact Ideastack now!
Frequently Asked Questions
Q1. What does dedicated server mean?
In a dedicated server, a client has sole access to the entire server.
Q2. What is shared server?
A shared server is a computer that hosts your apps and data alongside the applications and data of other individuals or enterprises.
Q3. How many types of servers are there?
The types of servers are database servers, print servers, mail servers, file servers, application servers, web servers, and game servers.
Summary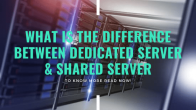 Article Name
What is the difference between dedicated server & shared server?
Description
If you don't know the difference between a Dedicated Server & Shared Server. We are here to help you so check out our post.
Author
Publisher Name
Publisher Logo