Things to Look for in Cheap Shared Web Hosting
Cheap shared web hosting is the best choice for startups and small businesses. When your business is new, you should be able to manage with limited resources and space. However, you must be ready to upgrade immediately when you feel that your business is growing and you are experiencing server crashes or page load becoming slower than usual times. Unless, of course, if you have restricted service to provide and have limited traffic, well, in that case, you should not upgrade to a better solution.

1 What is shared hosting?
2 Choice of Operating System
3 Least Expensive Hosting Option
4 What you need from the cheap shared web hosting
5 Fully-managed services
In shared hosting, your website will be placed on a server where there are numerous other websites. One of the biggest drawbacks in this type of hosting is that you have to share your resources with other websites. When one account uses extra or more resources than usual, the server will not sustain the pressure. Risks of the downtime and server crashing are high. With this uncertainty, it becomes difficult to focus on core business and instead of thinking about the future plans as to how you can make your business better, you might be wasting time on just loading your website and hence losing a lot of money.

Choice of Operating System
There are two types of plans that you could select from- Windows and Linux. Windows shared hosting is a web server that is hosted on the Windows OS. Windows is a Microsoft-owned software and the users are required to pay a license fee to use all Microsoft products.
It's recommended that you use Windows servers if your site is constructed on the ASP.NET and MYSQL technologies. Windows is compatible with all the open-source scripts too. Linux is free to use OS and is built in Python, PHP, Perl languages with MySQL as its database.

Least Expensive Hosting Option
As it is well known that small businesses and startups experience budget restraints. They should never directly host on the higher platforms. As a new business in the market, you can never rightly predict the traffic to your site. To be on the safe side and to save your budget, it is recommended to look for cheap windows shared web hosting provider. The server expenditure and its maintenance are split across the numerous users. This makes shared hosting very affordable in the prize in price.

Virtual Private Server (VPS) also involves sharing, but here the clients hosting on our server which is physically divided inside the server. The features such as memory space, RAM, etc. are equally divided and every consumer gets a certain amount of resources reserved for themselves so no user or client can overuse. It is a bit more expensive than shared hosting but it promises great uptime for your website.

Uptime: Your provider must guarantee a network uptime of at least 99%.
Not overload: look for a service provider that provides you with a hosting plan who doesn't have a large number of clients/users on a single server.
Support: Chose providers that provide you with around the clock support over email, live chat, etc.

Fully-managed services
There is another cost-saving feature of the cheap shared web hosting. All the server related tasks are performed by the provider. You can be guaranteed the finest performance. Any site that pulls excess resources is given the warning to control or upgrade their plan. You need not spend money on recruiting IT experts if your business is not IT-related. If you have IT experts, you could use them to build applications related to business.

Summary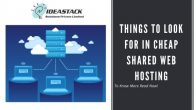 Article Name
Things to Look for in Cheap Shared Web Hosting
Description
Shared web hosting is the best choice for startups and small businesses &manage with limited resources and space, Shared hosting provides guarantee a network uptime of at least 99%, Fully-managed services.
Author
Publisher Name
Publisher Logo