Significant Tips Regarding Web Hosting
[siteorigin_widget class="SiteOrigin_Widget_Image_Widget"][/siteorigin_widget]
The way of creating and hosting a website on internet is called web hosting.If we are willing to build a website we need the help of a web hosting service provider and a correct domain name. So to host a proper website, having a web hosting account is very important. The website that we created and hosted on the internet can be accessed by everyone. Let us have a brief description of the Concept "web hosting"
Website And Its Types
Website is a collection of web pages that are connected under a single domain. There are two types of website. There are two types of web hosting. They are:

Static website

Dynamic website

 
[siteorigin_widget class="SiteOrigin_Widget_Image_Widget"][/siteorigin_widget]
What Is Web Hosting?
A web hosting service providing is a business or an activity that provides the services and technologies that is essential for the webpage or website on the internet. Those specific websites are hosted or stored on special computers called server computers. These server computers usually store the information to supply over the internet to the customers.
Types Of Web Hosting
The types of web hosting are:

Shared Web hosting

Virtual private server(VPS)

Reseller web hosting

cloud-based web hosting

Dedicated web server

collocation web hosting

Self-service web hosting

Managed WordPress hosting

 
[siteorigin_widget class="SiteOrigin_Widget_Image_Widget"][/siteorigin_widget]
Tips Regarding how to host a website?
Tips in hosting a website are:

Decide the type of website that the you actually wants to host.

The website may be static or dynamic as per the designer wants.

The static website is simple websites with one or more web pages. These web pages are usually called as HTML pages.

These web pages can be easily built by software like Dreamweaver on our personal computers. After creation of those websites, they have to be uploaded on the internet using any FTP software.

Usually, these like websites are created by normal students who need it for their domestic purposes.

The information in the dynamic website changes day by day depending on the time of the day and other factors.

The website designers make use of both client-side and server-side scripts to create and update the content that they want to post on the dynamic websites.

After designing the appropriate website that the user needs, choose the appropriate host server.

There are two basic hosting platforms. They are Linux and Windows hosting.

Linux hosting which allows running scripts written in PHP, Perl, and python.

Windows hosting which allows running scripts written in Microsoft technologies.

The web hosting plan wants to be selected. The web hosting plan may be any hosting services like shared hosting, cloud hosting, dedicated hosting, etc.

Change the DNS address as per the website plan

After creating the website, an appropriate domain address has to give for the specific website.

Finally, after completing the above-mentioned processes, the appropriate website should be uploaded on the internet.

 
Ideastack's web hosting experts are always ready to guide you for Choosing the right plans for your organization.
Last Edited: 28/04/2020
Summary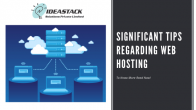 Article Name
Significant Tips Regarding Web Hosting
Description
If we are willing to build a website we need the help of a web hosting service provider and a correct domain name. So, check out our post to get tips on Web Hosting.
Author
Publisher Name
Publisher Logo