An Introduction to Blogger Vs. WordPress
When we talk about blogging, WordPress and Blogger are undoubtedly the most renowned names. Google owns the Blogger, therefore naturally it is popular and one of the notable blogging platforms. On the other hand, WordPress significantly dominates the biggest market share of Content Management Systems for many years now.
In the subsequent sections, you will be able to understand which blogging platforms suit you the most. Meanwhile, let's catch a glimpse of both platforms so you can understand what to expect from each blogging platform.
First and foremost, Blogger is one of the best platforms for beginners. With the help of this platform, you can easily establish a blog in no time. You can begin publishing your original and unique posts etc for absolutely no cost at all. 
Whereas, when it comes to WordPress it consists of two types. The first one is WordPress.com, where you can establish free blogs along with some extra features by accessing the premium plans. Next, there is WordPress.org which is also a self-hosted blogging platform. It is also an open-source design that has more creative options as well as features. 
Now that you have a little bit of knowledge of both platforms, let's begin with understanding the detailed information about Blogger vs WordPress. This may also help you switch from Blogger to WordPress or the other way around, depending upon your expectations from the blogging platforms. So, firstly let's take a brief look at What is WordPress?
WordPress is a free open source software that feasibly aids you in creating a website, digital store, or blog. It was started in 2003 and today it is a notable content management system responsible for empowering over 38% of all websites present on the web.
You can easily install the WordPress software for no cost at all. You can also use it on several sites as per your requirement. Nevertheless, you need to purchase a hosting plan along with a domain name to run the website. You may find it difficult at first, but there are tons of free themes, tutorials, and over 58,000+ free  WordPress plugins. These features make it user-friendly!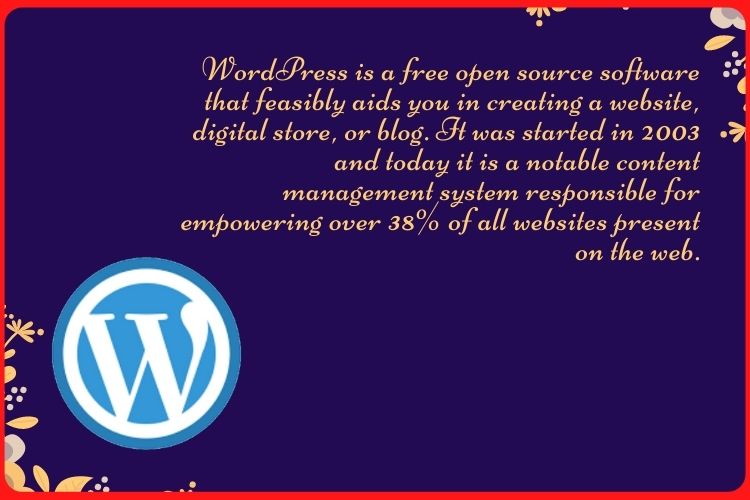 Blogger is the most popular free blogging service by Google. Pyra Labs started blogger in 1999. Later in 2003, this blogging platform was procured by Google. Blogger is a feasible and free blog hosting service that aids you in creating a blog. 
A free Blogspot subdomain is also available for you. Nonetheless, you can always customize the domain name for your blog. You just need to connect the domain name to your Blogger blog once you register a domain name by way of the third-party domain registrars. And Viola you will acquire a customized domain name.
Now without further ado let's dig into the Blogger vs WordPress comparison based on numerous quality factors: 
1. Blogger Vs. WordPress: Ease of Use
WordPress and Blogger are especially known for how user-friendly they are! But when it comes to Blogger, one can say it is an unparalleled match when it comes to beginning a blog instantly and efficiently!
If you already have a Google account (which most probably everyone has), you can dive inside Blogger and also curate a fresh blog instantly. Subsequently, Blogger will inquire you to select a heading as well as a theme for your website. Additionally, you will get free access to a domain if you don't own any. The free address looks like yourblogname.blogspot.com. 
This entire process is a work of a few minutes. Once you are finished with setting up the Blogger website, you can start creating your blogs straight away. Hence Blogger is very efficient when it comes to ease of use.
If you already have a Google account (which most probably everyone has), you can dive inside Blogger and also curate a fresh blog instantly. Subsequently, Blogger will inquire you to select a heading as well as a theme for your website. Additionally, you will get free access to a domain if you don't own any. The free address looks like yourblogname.blogspot.com. 
This entire process is a work of a few minutes. Once you are finished with setting up the Blogger website, you can start creating your blogs straight away. Hence Blogger is very efficient when it comes to ease of use.
2. Blogger Vs. WordPress: Security
Hackers often attempt to obtain admittance to your website, bring it down with the help of Denial of Service, or even completely knock you off your website. Hence, Security is of utmost importance when it comes to running a website.
Blogger benefits from Google for security just like it does in performance. You must have experienced it till now that Google has strict security factors and you can trust it without a doubt. However, since you will be using a closed platform you cannot change the default settings of security.
In this platform, you are more susceptible to becoming the target of hackers. However, Content Management Systems help you in protecting your website in tons of ways. You can also change the security settings and increase your security as per your needs. 
You can manually do this or you can also do it by utilizing security plugins, like the Sucuri Security and other options as well. This also means that you can take the security levels to another level if you want to. So in this comparison of security and backup WordPress seems like a better and reliable blogging platform.
3. Blogger Vs. WordPress: Ownership & Control
When you own a blog site ownership and control also play a crucial role. Having overall ownership over your website helps you to gain freedom and do anything you want. This also helps you control the important aspects of how to handle and monetize the blog site without any restrictions. Let's look into the further details of each platform.
Blogger is a platform for blogging from Google. It is free, dependable, and has many options to smoothly publish your blog on the internet. However, its ownership doesn't belong to you. 
Google has all the rights to shut down your blog site or even your access to it at any moment. It's just like how social media apps bans out some people without any prior warning. Even if you do not do anything illegal or wrong, you can still lose your blogging service if Google chooses to stop continuing with Blogger. 
In WordPress, to host your site you can utilize a WordPress hosting provider. You are allowed to run your blog site as per your requirements. A warning will be given to you if the blog site is to be shut down. You can always change your web host at any moment if you want to. 
When it comes to Blogger, you can save the data and your blog only in Blogger. But in WordPress hosting a site becomes easier, as you can own and save all your data and you can also handle what you share with the third party. So definitely WordPress is a nice choice when it comes to ownership and control.
4. Blogger Vs. WordPress: Flexibility
Blogger is an easy platform for blogging but it is less flexible to use. The order of your blog posting or even curating custom posts will not be in your control. Blogger is owned by Google, which means that you do not completely own your blog. Nevertheless, you can edit its custom CSS and HTML. Advanced choices like popups, blogger ecommerce plugins, and other options are not available on the Blogger. This restricts the potential of making money when utilizing Blogger.
On the other hand, WordPress is open-source software. So it easily helps you add the features of your choice. In WordPress, with a content management system, you can select the fonts, layouts, and colors of the choice for your blog. As there are thousands of plugins available for free on WordPress, it stands out to be more flexible.
5. Blogger Vs. WordPress: Support
Whereas in the case of Blogger, one would assume there would be tons of documentation. But sadly, it's not true. The documentation files are available but the support is quite restricted. You can get support from the support forums, but expecting much from these forums is not suggestable. So, in terms of support, both platforms are on the same page.
To thoroughly understand WordPress you will take some time. Nevertheless, there are thousands of themes and plugins or even several online materials when it comes to supporting. But if you are doing any difficult tasks, either you have to complete the tasks or hire experts for the same. Sadly, there is no default support available in the self-hosted version of WordPress.
6. Blogger Vs. WordPress: Future
The fate of Blogger entirely depends on Google. So Google has all the right to shut Blogger down whenever they aspire to do so. Therefore, the future of Blogger depends completely on Google's judgment. 
WordPress on the other hand is open-source software, hence its fate doesn't depend on a single company or a person. WordPress is famous and a reliable Content Management System (CMS). Hence, the fate of WordPress seems reassuring and bright.
7. Blogger Vs. WordPress: Portability
Shifting your blog site from Blogger to a separate blogging platform is a difficult task. There lies a notable risk that you may lose your SEO, supporters, and members while moving the site.
Whereas, when utilizing WordPress, you can shift your blog site as you want. You can even change the domain name, shift your site to another CMS or even shift your WordPress blog site to another host.
8. Blogger Vs. WordPress: Price
In Blogger, blogger domain price or blogger hosting price is zero. Blogger is a blogging platform where the blogger pricing is free of cost. So as the Blogger is completely free, Blogger wins when it comes to pricing.
On the other hand. in WordPress, you need to make a small investment in the hosting plans before starting the blog posts. You need to pay for your hosting plans as well as a domain name in the WordPress software.
9. Blogger Vs. WordPress: Simplicity
With Blogger, things are way easier. Except if you do not have a Google account, you just need to sign up for one. If you have an account you can log into Blogger right away. Within minutes you can start with your blog and publish it.
WordPress is a beginner-friendly blogging platform. But, mastering WordPress takes time. Before any blog posts, you need to set up WordPress correctly. You also need to buy a domain and hosting plans to run your blog site and upload it. So, a beginner may lose their path if not directed correctly.
10. Blogger Vs. WordPress: Templates
When compared to WordPress, Blogger's templates have limited options. Hence, it restricts you from making the blog as per your choice. As the customization options are far less than that of WordPress.
When we talk about blog templates, you have tons of choices in WordPress. There are over 8000 templates on WordPress and that too for free. In a single look, you will observe that there are the best WordPress themes for blogs on the WordPress themes page.
11. Blogger Vs. WordPress: Content Management
Blogger was purely built for blogging purposes. So you can trust Blogger as far as content management is concerned. Google has made it effortless to commence your very first blog post and run the blog site without any difficulty.
WordPress is entirely a content management system. Whether it be adding content to your blog site or adding images, videos, etc to it WordPress has got you all covered.
So when compared with the other blogging platforms, both platforms are exemplary when it comes to content management.
12. Blogger Vs. WordPress: Plugins
Only 26 blogger plugins/gadgets are available on Blogger. Although blogger consists of a handful of options, you can always edit its HTML and CSS code. But as the amount of plugins is way more versatile and abundant in WordPress than that of Blogger, WordPress has an upper hand in plugins.
Whereas WordPress is the world's most renowned content management system, it consists of over 58,000 free plugins and tons of paid choices.
13. Blogger Vs. WordPress: SEO
Both the platforms render you with many choices to optimize the SEO of your blog. Nonetheless, Blogger is limited only to fewer settings. In WordPress, you can get more work done and the optimization of the blogs on WordPress is much more effective.
The built-in features and the use of plugins of WordPress makes SEO optimization way easier than that of Blogger. The built-in features of the SEO plugin for bloggers are limited to only a few settings.
14. Blogger Vs. WordPress: Blogging
Both WordPress and Blogger were originally built as blogging platforms.
So when it comes to blogging both platforms are ideal. However, Blogger is limited to the basic blogging features consisting of a limited free template package, themes, and some paid third-party themes/ templates.
Whereas, WordPress ranges from Basic to much more advanced features for blogging and that too for free of cost.
15. Blogger Vs. WordPress: Usability
Experience rendered by WordPress and Blogger differs considerably.
Blogger is fast and effortless to set up however has fewer features and choices than we desire from a blog site. Even the features provided by Blogger are primary, and combining additional functionality is possible only with a confined number of gadgets or through custom CSS code.
No doubt that WordPress has more levels in the process of setup. It takes a longer time to run as a fully functioning website as you have to also choose the right hosting service and theme. Nevertheless, once organized, you have absolute authority over your site.
Therefore, in terms of the usability for long-term/ profitable blogs, you should choose WordPress or choose Blogger if you want to just put yourself out!
16. Blogger Vs. WordPress: Features
There is little comparison between the features and functionality offered by Blogger and WordPress. Although Blogger offers all the essential Gadgets and features needed to start a blog.
Blogger simply can't compete with the wide assortment of Premium WordPress themes and tools and plugins on offer.
What are the pros & cons of Blogger & WordPress?
Now you must be fully aware of how these two platforms function. Now let's look into their summarized pros and cons for choosing Blogger or WordPress from a beginner's point of view.
In contradiction, let's consider what WordPress has to offer.
These points should give you a brief idea of both platforms. Now, based on these points you can choose the blogging platform of your choice.
Preferring a platform for your first blog isn't an easy circumstance. There are ample options available that can make your work harder to choose the appropriate platform. After considering all the quality factors between Blogger vs WordPress, you may have got an idea concerning both platforms. WordPress and Blogger are both great options for blogging, but choosing an appropriate platform depends upon your requirements, funds, and long-term goals.
Curating a personal blog to share your adventures, life stories, and unleash your inner blogger out then, Blogger is a great option for you. You do not need any extra investments while using Blogger.
But if you aim to curate a professional blog for the long term and want to monetize it. If you need a high-performing, flexible platform, and scalable, then the correct option is WordPress. It broadens your earning strength by allowing you to combine with an eCommerce store, membership website, etc. So in Blogger vs WordPress for making money, WordPress enables you in making more money.
Thus choose a good hosting service based on your priorities and requirements! 
Frequently Asked Questions
Yes, Blogger is a completely free blogging platform. It renders free Blogspot subdomain and free blog hosting as well. The themes, other options, and the gadgets in Blogger are free of cost, nevertheless, you can also buy some of the themes from available third-party themes.
Q2. What is the difference between a blog and an article?
The most obvious contrast between a blog and an article is the contrast in writing style and the length of the written piece. Blogs can vary from at least 300 to 1000 words, but articles happen to be lengthier. Whereas, the average length of an article can range from 1500 to 5000 words.
Q3. Is it possible to add AdSense to a free WordPress blog?
Yes, of course! Google hosted platforms like Blogger, allow you to change your AdSense account type and utilize it with your free WordPress blog. You will require to render Google AdSense with the URL of your website you need to monetize by completing out the provided form.