Significance of dedicated web hosting for your online business
For any type of online business, web hosting is necessary and it is also consider as an important part of online marketing. If the customer wants full control then you can provide a server with a high level of security to be hosted by a dedicated server this provide more flexible and reliable services.
Type of web hosting service shares one server with other customers in Ideastack. And also the low security problems could be faced using a dedicated server now you can know more about the servers in a systematic manner.
What are the benefits of dedicated web hosting?
Providing high-level security all those resources of the server will be stored in memory, the amount of bandwidth will be calculated and another type of resources will also be allotted. When you access databases or files that are located in a more secure place at that time there is no chance of getting blacklisted.
With the help of dedicated resources, one gets the liberty to use such resources of those servers, considering the bandwidth and also the disk storage according to that you can fulfill your needs.
They will give, the better uptime as per needs according you can select the resources with other users and also offers better uptime than you shared servers with the least downtime will be possible.
It will be available to access administrative and then to complete the control of the server, which means it will be able to install any kind of software which can be able to modify anytime. It can be supported by good technical ways with the help of Ideastack, and also provides instant support for saving your time and money.
Get better performance as well as speed
A dedicated server is more reliable and it increases the performances on the site by using a dedicated server for your websites it allows your sites and your web pages to run faster. By providing all those features as per the required online business, then only you can get the best results.
The only disadvantage of dedicated hosting is it is more expensive and then they will share a virtual server in private hosting. By assigning IP addresses along with your dedicated server, it provides more safety and security for your valuable data to be processed on your website. Now the online business needs the best website hosting service.
Frequently Asked Questions
Q1. What is the importance of dedicated hosting?
Compared to shared hosting, dedicated servers offer higher levels of security and stability. It ensures that you are not sharing your space with any other harmful software or a possible spammer. A dedicated server is necessary for businesses that use FTP or SSL for transactions since it improves security.
Q2. Why is web hosting importants for a business?
The importance of a reliable website hosting provider is to provide the public with a high-quality service, your brand must have a reliable web host. Applications like systems, virtual shops, blogs, and websites can all benefit from hosting, which has benefits like improved performance and higher security.
Summary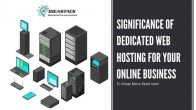 Article Name
Significance of dedicated web hosting for your online business
Description
An online business needs web hosting and a high level of security for any type of online business, dedicated server provides more flexible and reliable security services. Know-How to buy a cheap dedicated server hosting in India
Author
Publisher Name
Publisher Logo