26 Reasons Why E-Commerce websites should opt for Cloud Hosting
E-commerce has been termed the best way the customers and businesses can interact. With more and more significance and engagements on online platforms, e-commerce website's benefits cannot be avoided by many. E-commerce has given customers the luxury to buy any service or product from the comfort and luxury of their homes. It has completely changed how on-premise platforms used to function and has forced them to sell services & products online.  
Consumers are on the look for the most convenient, effective, and easiest ways for shopping services & products online.  Well, cloud hosting is one such solution that can offer multiple convenient advantages for users as well as for businesses. Cloud computing service offers a scalable and sustainable framework that brings in profitability and growth from the cloud hosting multiple advantages itself. 
The compelling features of cloud computing help your e-commerce brand to launch proper data storage, user interface, load speed, virtualization, and secure payment options. Cloud hosting is surely going to give your e-commerce business an extra edge. By going through the following discussion, you will know this better on your own!
What is E-commerce hosting?
E-commerce hosting is the hosting where an e-commerce website resides and gets the ability to connect with the internet and let people browse. Now this hosting for online store might be based on hardware or may also be based on specialized features and plans.  A quality e-commerce web hosting is where specific features are attached as per the business line. These features might comprise extra security, scaling up and coping during high traffic loads, free SSL encryption, payment gateways, etc. 
The sub-type of e-commerce hosting called WooCommerce hosting possesses all the features an e-commerce hosting package should have. It has server environments optimized specifically for the WooCommerce plugins.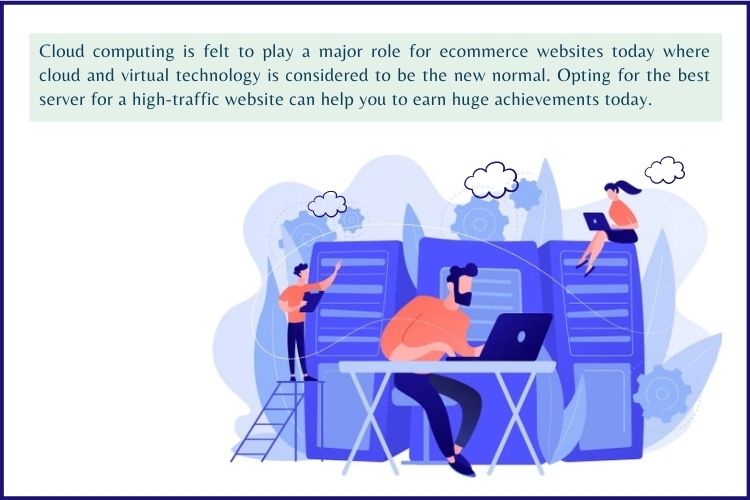 What is the Cloud?
Cloud computing is a model enabled that can be accessible to a shared pool of computing resources. Cloud computing actually allows you to rent your computing power. This means that in cloud-based hosting, you can sell your storage space and draw analogies. The main importance of cloud computing is that it helps you to supply computing power with the help of the internet. 
Cloud computing is felt to play a major role for e-commerce websites today in this generation where cloud and virtual technology is considered to be the new normal. Opting for the best server for a high-traffic website can help you to earn huge achievements today. The role of cloud computing in businesses is felt and believed by almost all kinds of industries today and it is said that businesses are functioning more effectively and efficiently on the cloud rather than on normal terms. 
Cloud E-commerce Solutions:
Talking about the term "cloud e-commerce" first, it is the use and access of application services, data, and store processing with the help of outsourcing of a remote network of servers hosted on the internet. Basically, it is e-commerce based on cloud solutions against software installed on a local server. 
The cloud e-commerce solutions are considered to provide additional benefits when compared to the traditional on-premise server for storage. Cloud brings a lot more reduction in complexity and maintenance costs. It can be said with pride that, today the cloud brings in the best internet e-commerce solutions for businesses looking to make big on the internet.
Reason 1 – Increase Scalability
If you are looking to open an e-commerce store, you are most likely investing in a good load of resources. For constantly up ticking the numbers for website traffic of your e-commerce, cloud hosting will help you to increase and manage your scalability goals supremely. You can efficiently scale resources to manage the uptick and boost in your website traffic without even hindering any of your website's performance. Even in times of sudden surge or immediate mishap, the cloud hosting solutions will manage it perfectly without causing any latencies or issues on the part of online retailers.
Reason 2 – Enhance Security
Securing important clientele data, files, applications, and tools is one of the most prominent aspects of any e-commerce store. Cloud base technology can help you to professionally manage the security of your e-commerce store by taking robust measures for your security protection and management. Measures like end-to-end data encryption, antivirus programs, firewalls, multi-level authentication, and many other security functions can be managed effectively by cloud service providers.
Reason 3 – Improve Accessibility
Cloud hosting can improve the accessibility of your website by a mile. You can easily run your e-commerce business operations smoothly and with a good amount of convenience. Cloud hosting can offer great and easily accessible data options for users, visitors, employees, partners, suppliers, and anyone who would require accessible online data. Users can get unlimited data access along with remote access with the cost-effective cloud hosting solution. Cloud hosting gives you the assistance to access required data through remote servers' networks without needing each in-house system.
Reason 4 – Greater Reliability
Cloud hosting also comes as a great reliable option for your website. It can give you uninterrupted functionality across various connections and networks by equally distributing the load. This leads to perfect load-balancing and cross-functional usability. Increased reliability also builds more belief to completely rely upon the systems. 
Reason 5 – More economical
Keeping a good hold of budget and economic condition is a major aspect for e-commerce and other business as well. Cloud hosting will be that perfect pocket-friendly solution for you that will help you to come at a way lower cost by paying for actually what you use. When compared with other per-unit-based storage options, cloud hosting will help you to trim down way more operational costs than you would have incurred by hosting your own security network.
Reason 6: Enhance stability in the competitive market
Many times we tend to waste our time and resources on IT-enabled requirements which may cause a lag in your business. Cloud hosting hence aids one's business as it comes up with better products and strategies as per the preferences of the consumer. 
In today's highly competitive world you must come with the best ideas for your business. You need to use your time and resources very precisely as well. Cloud computing will ease all your struggles with appropriate solutions and enhance the stability of your business.  
Reason 7: Improved back-up and recovery
When we talk about the protection of applications or data most of the entities do not own a precise disaster recovery plan. Hence any natural disaster or failure in systems, unpredictable power outage, etc. would crash the business. This would cause a huge loss in your business revenue as well. 
Local servers hosting are efficient in providing partial protection but fails during extreme or uncalled emergencies. Cloud-based technology is one of the best solutions when it comes to the protection of data and storing it. The best part about cloud hosting is that it helps one to cope up with business even after the server is damaged. 
Reason 8: File sharing
File sharing is one of the major reasons e-commerce companies are storing their business data on the cloud. Because cloud storage allows any business to share the data without any virtual private network. It has lowered all the costs which otherwise network costs would create. Cloud migration has even made sharing of huge files very much simple. 
Reason 9: Close scrutiny of consumer experience
Many small-scale entities are advancing their e-commerce platforms to enhance and modify the experiences of their CRM pipelines and their data sites. The e-commerce business world is changing considerably towards enhancing consumer experiences. This simply means that B2B purchasers expect a retail-like consumer experience.
In today's world, IT officers have a wide range of cloud service providers. Nevertheless, these officers consistently look forward to assessing these options according to the required business preferences. These changes take place in B2B, B2C, or a combination as well to enhance the consumer experience.
Reason 10: The Tech-Flea Market
One can not reach the top of the e-commerce industry without understanding the pros and cons of cloud hosting. Taking this initiative would also help you understand the requirements of your business. Different types of network frameworks and cloud-based apps are efficient in providing technical and mobile services for several e-commerce functions.
With cloud computing, you can easily upgrade your business via social media promotions. This would also save your time, resources, and costs. Hence cloud computing is cost-efficient than that of your in-house server system.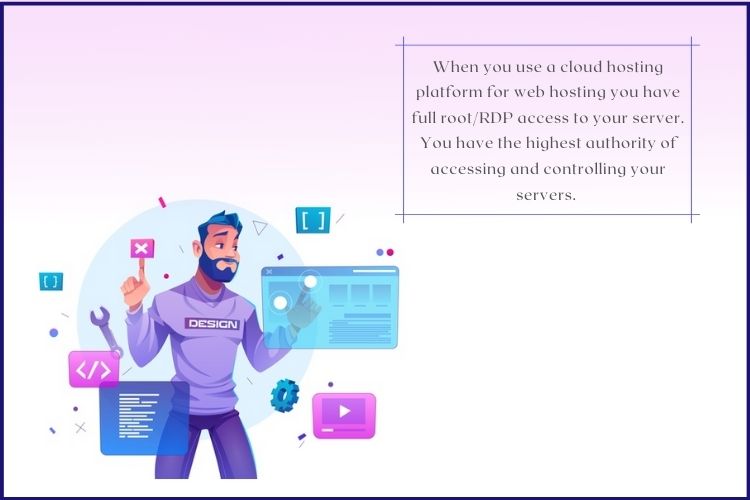 Reason 11: Full root/ RDP Access
When you use a cloud hosting platform for web hosting you have full root/RDP access to your server. You have the highest authority of accessing and controlling your servers. You can also install applications and software which associates with third-party applications. Hosting multiple portals, website, forum and blog become considerably easy through RDP access feature of cloud computing.
Reason 12: Helpful in research and development
Without effective research and development, a thriving business is nearly impossible. The research will help you understand the latest trends in the business and enhance your success level. As today's market is completely based on enhancing the consumer experience you must focus on creating new and unique business ideas. Cloud computing will aid your business with the latest trends based on the research on your consumers. 
Reason 13: Globalize the Business
If you want to flourish your business around the globe cloud computing is an effective and cheaper way. You can just use the internet to control your business in various places. The consumer reach is also improved due to cloud computing. 
 Reason 14: Target the Premium Customers
Cloud computing is simply the best way to target premium customers. You can understand the pattern of likes and dislikes for the products according to your consumers via cloud computing. You can hence personalize the products according to their preferences.
Reason 15: Increase in Revenue
Cloud computing is very cost-effective cause it saves so much time, resources, and high costs of infrastructure, etc. You don't need to invest in capital for storing and protecting data with cloud computing. Cloud hosting also improves the organic traffic to your e-commerce sites. You can efficiently use the remaining resources in other accessibilities of your business to easily enhance the sales and profit of your business.
Reason 16: Supportive in business enhancement
Appropriate regulation of cloud computing technology will give your business an upper hand. You will be able to make and sense a considerable difference in your business. For that, one should always mark the market trends and provide the best solutions as per the preferences of the consumers.   
Reason 17: Smooth Resource management
Resource management turns out to be pretty effortless and trouble-free with Cloud computing. As you are going to outsource this assistance through other IT companies, you can just relax when it comes to data management. As a well-trained team will be consistently managing, enhancing, and maintaining all your data.
You can preferably invest this time in the other sources concerning your business. Cloud computing aids the development of clear communications between consumers and suppliers. It also proves to be very effective in overcoming obstructions in the supply chain.
Reason 18: Evaluate New Market Opportunities & Market Challenges
Cloud computing service comes in very handy when it comes to understanding the latest demands and trends in the market. As per these marketing trends, you can make impactful variations in your business production. You must be conscious of the fact that a cloud-based approach is more impactful. This will also help you with choosing the best solutions for marketing your business.
With the help of Cloud-based e-commerce applications, you can instantly respond to current market difficulties and possibilities as well. This will also help you in analyzing the reviews of your consumers. You can hence deal with their demands appropriately. Consistently keeping up with marketing trends becomes easy with marketing cloud e-commerce.
Reason 19: Adaptability
Cloud computing proves to be one of the best solutions in terms of flexibility. In this feature, you don't need to block your business resources from storing a large space for your consumer-based information. It can instantly boost or reduce the space according to your consumer demands. As a result, adaptability proves to be the best feature of cloud computing.    
Reason 20: Speed
The speed of your website will either make or break your business. You can lose about 40% of online shoppers due to delays in the loading time of the webpage or the app. Many huge entities spend a tremendous amount of money for increasing the speed and network infrastructure for e-commerce. Nevertheless, the website supported by a strong cloud-based platform can be a fast e-commerce component.
There are various benefits when you use Cloud-based e-commerce as it is very efficient to bring your business ideas into action in no time. With cloud computing, the underlying IT structure application needs the least attention. As it possesses the capacity to carry out any innovative initiatives. Cloud computing ensures and brings maximum advantages to your business like no other on-site infrastructure due it this fast speed.
Reason 21: Collaboration Effectiveness
Cloud technology provides you with a platform where you can run your business and connect with your employees around the globe. This also saves a lot of resources that you would otherwise require in monitoring the business at various places. A centralized data can be procured efficiently by different people at different locations. With the help of cloud computing, you can communicate with the person or entity concerning your business anywhere anytime.    
Reason 22: Automatic Updates
Cloud hosting for e-commerce has brought about a tremendous change in digital marketing. Cloud computing services use the best cloud technologies to take your business to another level. If your business is retaining the data using this service then the data will be updated automatically. The automatic updates are scheduled according to your requirements and preferences. There will be no hassles of manually updating as automatic updates offer updated software versions.
Reason 23: Environment Benefits
If the business entities use shared networks then it will benefit the development of our country as well as industries. The resources are completely used in the paths of the shared network. It will affect the environment less.
Reason 24: Infrastructure Support
One of the most significant difficulties which e-commerce industries encounter is storing huge data. It becomes very difficult to keep up with the market trends as millions of users are present on the web. However, cloud computing has made the data analyzing process simpler and quicker. Data mining companies have started putting all their work into this infrastructure support and offer their services to big cloud service providers. As a result, you don't have to invest an enormous amount in infrastructure.
 Reason 25: Boon for Start-Ups
In this digitally paced-up world, many apps are showing up to complete the demands of their consumers. E-commerce is no more just limited to big retailing companies. Many small businesses are flourishing all over the web.
These businesses aren't self-sufficient enough to run and build their apps or webpages. Cloud services like cloud commuting are a boon to such kinds of start-ups. Buy cloud space now and take your start-ups to new heights.
Reason 26: Cloud Hosting Allows for Better Back end Support
Cloud hosting focuses on your overall business growth instead of just one aspect hence it is excellent backend support. One of the best sides of cloud-based solutions is that it is the package of all the functions which can enhance your digital presence. This has aided all the small as well as the big retailers to set up an online store without any hassle. Cloud website hosting has changed the perceptions of personalized websites to a whole new level. This has surely offered better back-end support to every business.
Do More and Sell More with Cloud Hosting?
Cloud hosting has upped the digital business game. New initiatives and possibilities are introduced through cloud hosting. The best Cloud Hosting solutions have been introduced to improve your business experiences. You can easily scale up your business, communicate anytime anywhere, store your data and use many other features to enhance your business. With cloud hosting services your e-commerce website will have an upper hand.
How To Choose Cloud Hosting For Ecommerce?
There are many characteristics on basis of which you can segregate the cloud computing models. Well to aid you to choose the best hosting for e-commerce let us take a look into the following e-commerce hosting models.
It stands for 'Platform as a Service'. It is a model which will help you procure databases, storages, and codes. For instance: Cloud suite and Google App Engine etc.
It stands for 'Infrastructure as a Service'. These infrastructure server models will allow you to control the complete structures of the software as well as OS. you can also control the runtime. For instance, Microsoft, Apple, eBay etc.
It stands for 'Software as a Service'. It is helpful for small businesses. It includes hosting providers from third-party. If you do not want to fall into the worries of coding or hosting this is the best option for you. 
These models may help you choose the best cloud hosting. Apart from that, you must also consider the hardware and software requirements and other cloud hosting features that will enhance your business.   
Aspects You Need to Look for in an Ecommerce Hosting Provider
There are some of the aspects of e-commerce that are must-have in cloud hosting. Like every other web hosting company your website should have a high performance. It should be fast as well as reliable. Running out of space will be the most difficult situation for you. Therefore, the file storage and bandwidth of your managed hosting should be more. As everything is going to be saved on the cloud.
A CDN server is a mandatory server as it will help you spread your business around the globe without you physically traveling to that place. Auto-scaling is another such aspect that will enhance your marketing strategies. It also helps in flourishing your business to a wider audience. These are the e-commerce host features which you should rely upon while choosing an e-commerce Hosting Provider.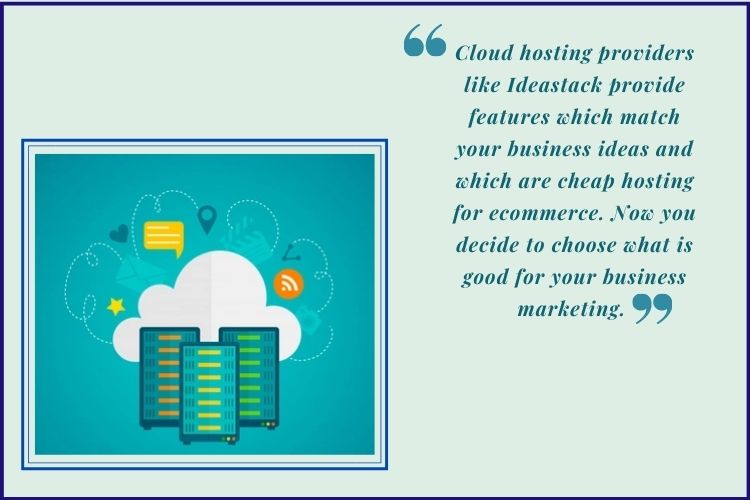 Conclusion
There are various benefits of an e-commerce website when combined with cloud computing. Cloud-based e-commerce solutions have changed the face of digital marketing. They are flexible as well as scalable for all kinds of businesses. It has introduced e-commerce to automate business. Cloud hosting ensures higher conversion valuations, lower cart discard rates, and automates your business according to the consumers to a greater extent.
Nevertheless, cloud hosting providers like Ideastack provide features that match your business ideas and which are cheap hosting for e-commerce. Now you decide to choose what is good for your business marketing.
FAQs
Does Cloud Cost Less than Traditional E-commerce Solutions?
Yes, indeed, the cost-efficiency of the cloud is more than that of traditional e-commerce solutions. Traditional e-commerce platforms require infrastructure as they are set up locally. This increases the investment cost. On the other hand, cloud-based solutions do not require any such investments. Traditional e-commerce servers are managed by a dedicated technical staff but cloud-based e-commerce software is automated. This saves the extra cost and makes it cost-efficient.
What Is SaaS, PaaS, IaaS?
They are a cloud deployment model based on various distinctions. Wherein you can decide which part should be under your control and which part your cloud hosting provider will control. The following will aid you more;

• PaaS stands for Platform as a Service. It is a model which will help you procure databases, storage, and codes. For instance: Cloudsuite and Google App Engine etc.
• IaaS stands for Infrastructure as a Service. These virtual servers will allow you to control the complete structures of the software as well as install an operating system. You can also control the runtime. For instance, Microsoft, Apple, eBay, etc.
• SaaS stands for Software as a Service. It is helpful for small businesses. It includes hosting from the third-party managed service provider. If you do not want to fall into the worries of coding or hosting this is the best option for you.
When to use SaaS, PaaS, IaaS?
• 'Saas' can be used when you want to test your start-up without investing in hosting or coding. You can also use it to run your business quickly and put your website online. It is useful even in playing seasonal or short-term games.
• 'PaaS' is beneficial as you use a system-developed website or use CMS. You can access the coding of your business e-commerce website. It is also useful if you want to install apps or software.
• 'Iaas' is a cloud hosting model suitable for big digital stores. You can easily scale your server resources up or down with IaaS. the total control of coding will be with you and you can customize it accordingly.
What are the different types of e-commerce hosting?
There are many types of hosting in e-commerce but originally there are three major types of e-commerce hosting, VPS, Dedicated, and Shared.
Shared hosting is cheap but it is not that reliable. The speed and space are not good at this hosting and are unsuitable for many businesses. Shared hosting just provides you with a digital presence.
VPS (Virtual Private Server) shares the machines but not the resources with the other websites. This tackles all the problems related to shared hosting.
Dedicated hosting is best of all the original hosting for e-commerce. It provides you with a personal dedicated server. Both VPS and dedicated servers are costly due to their features.
Besides these servers Cloud hosting is becoming popular amongst fast-paced digital marketers. As it offers scalable and affordable services. These are highly customizable and automated. Any type of business can use cloud hosting as it is cost-efficient.
Summary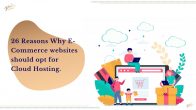 Article Name
26 Reasons Why E-Commerce websites should opt for Cloud Hosting.
Description
The cloud ecommerce solutions are considered to offer additional benefits when compared to the traditional on-premise server. Cloud brings a lot more reduction in complexity and maintenance costs.
Author
Publisher Name
Publisher Logo