Coronavirus Lockdown has changed the way businesses think and operate in India. Planning for organizational flexibility during a global crisis is of utmost importance. Nationwide shutdown due to COVID-19 has nearly caught many organizations. Although certain expectations of restrictions occurred, not many expected the scope of the restrictions to be set in place.
Here we will help you to develop a Business Continuity Plan during Coronavirus and also develop plans and processes for dealing with these disasters.
Identify your essential business products or services
You should rate your business priorities as an Entrepreneur or Company Owner in order of importance. 
– Create a schedule for these critical tasks and delegate duties to employees for how the Corona Virus Lockdown should manage these critical functions. 
– Analyze how long the available resources will continue. Look into management cash flow and the financial consequences.
Select what business continuity means for your business
– If you're a manufacturing company, continuity of business will mean maintaining consistency of production lines and factory operating.
– For an airline, continuity of business means being able to operate on time as scheduled.
– Business continuity for an IT / Engineering services organization would mean maintaining determination to provide project service without any delay.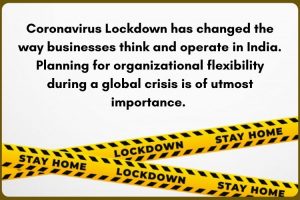 Reduce the negative impact of COVID-19
– Your business continuity strategy needs to revolve around the people and the partners during the Coronavirus outbreak.
– Ensure employee wellness.
– Develop a contact plan for employees, clients, and suppliers.
– Maintain a Standard Operating Procedure Guideline to maintain performance, and efficiently handle the core functions.
– Create a CoronaVirus Outbreak Team to look at vital functions to ensure that staff is protected with their preparation.
– Allow flexible job opportunities like remote work, work from home, alternative working days.
Do a risk estimate 
Understand the mandatory restrictions on coronavirus spread in your country, state, and the city imposed by your government.
– Mandatory closure of factories ordered by the Government due to city lockdowns. Shutting down your town with private offices. 
– A drop-in project quality delivered via an online system. Closing a company that can be run from a home office using online tools. 
Being emotionally attached to business plans which request change given the new circumstances.
Supply Chain Management 
– Identify effects on activities and revenues.
– Test the possibility of buying products from other suppliers or probably from several providers.
– Make sure your source has a Business Continuity Plan already in order during Coronavirus.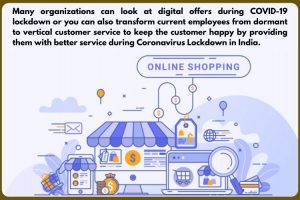 Change your value offerings or product
– Since direct customer contact during the Coronavirus lockdown will not be possible, it is wise to modify your product offerings in order to match what the consumer wants during this time.
– Many organizations can look at digital offers during COVID-19 lockdown or you can also transform current employees from dormant to vertical customer service to keep the customer happy by providing them with better service during Coronavirus Lockdown in India.
– In this way, you would maintain existing customers and be able to make better use of the workforce.
Find out options to run your business
– As a first step, if you are allowed to run your business from a remote location please check with your industry association. Planning and getting employees to work from home. 
– In coordination with your account managers and clients, discuss with your Administrative, Production Directors, Project Managers, and the Leadership team.
– Laptop access or the move of office desktops to the home offices.
Report and Plan for the future
– Build consistent contact methods for internal workers and for external stakeholders. 
– Using the time to think about the future and how to make up for the decline with a slowdown due to the Coronavirus outbreak in India and across the globe.
– Check the strategy regularly, and change it according to the external situation if necessary.
– Self-learning is a continuous cycle, so learn from the obstacles you face.
– The spread of the Coronavirus will prepare us for the next global epidemic or crisis if it does happen.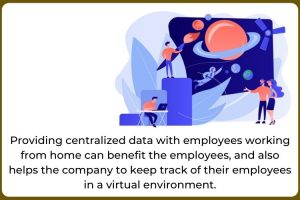 Implementing Virtual Desktop Infrastructure 
Providing centralized data with employees working from home can benefit the employees, and also helps the company to keep track of their employees in a virtual environment. You can check more about VDI Here.
Conclusion
This will help you implement the organization's Business Continuity Plan, and help fight through the Coronavirus Lockdown. Insights, resources, and organized business processes can support pandemic planning for entrepreneurs and their companies.
To know more visit Ideastack.
Read Our Other Blogs:
1. How do I login to my website control panel (Cpanel)?
2. What to Look for in a Reliable and Client-friendly VPS Service Provider?
3. Why Every Business Needs a Cloud Dedicated Server?
4. Powering your commercial needs with VPS Hosting.