12 Reasons Why Having a Business Email is Important?
Below are some of the most important reasons on why having a Business Email is so important for your business –
Reason #1 - To Maintain a Professional Image
When you use an email address to reach out to someone or to communicate through mail like for eg: [email protected] instead of [email protected], it would certainly look more professional and credible to the person you are communicating with. A professional email address sets a credible image in front of your customers. A custom email address represented by your business name will surely bring a brighter and more professional image of yourself. Though most often the free business email accounts might lead your emails to spam folders of your customers. So, it is highly recommended to go for a custom email address for your professional image.
Reason #2 - To Build Credibility and Trust
The Professional image you build using a professional email address will surely develop trust in the minds of your customers. Your name represented by your business email address as @businessname.com will not create doubts in the minds of your customers of considering it to be spam or just any promotion email. With business email addresses, your id will look utmost authentic and authoritative which develops credibility among the people you communicate. Being the reason why a business email address is considered to be the best email id for professional use. 
Reason #3 - More Flexibility and Control
The business email address can be assigned to each vertical of a particular business to promote exceptional flexibility and control. So, you can have different business email addresses for sales, marketing, HR, and other departments. For Example, [email protected] or say [email protected]. This offers your more flexibility in sending emails and gaining the credibility of your customers.
Also, it serves as a customer email address that avoids confidential and important business data to be exposed to the employees who are not included in a specific vertical or department of the business. The control of the business email addresses can be passed easily to any team member.
Reason #4 - To Promote Brand Awareness
A business email address is the most crucial and the most underrated component of any marketing strategy of a business. A perfect email marketing strategy could earn wonders for all kinds of businesses. Your professional email id represented by your business name sets a professional image of your business. A custom email address helps your customers and your target audience to recognize you better which enhances the brand image and brand awareness of your business.
Reason #5 - Backup is Important
Backup is of utmost significance in any organization. Backup helps you to save your important business and confidential data during any security mischief by hackers or in case your webmail provider cancels your services. So, if you are linked with a free professional business address, your data generated can be backed up efficiently with the help of business email accounts. The email marketing software can help you to backup and sync in regular intervals to safe and secured online storage. This makes these free business email addresses more prolific.
Reason #6 - To Maintain Security and Privacy Protection
You should always go for secured email hosting services. The importance of email addresses to be secured has been highly important in today's generation. A branded email address or a custom email address has a lesser chance of leaking any confidential information like your brand email address and its communications stay limited with your organization's email community. Also, your business email addresses would never go to the spam folders of your customers.
Reason #7 - To Reduce the risk of being marked as Spam
Free professional email addresses are most frequently utilized by the spammers and are often considered to be suspicious. Most of the free business email addresses are automatically filtered and routed to junk and spam folders of the receiver's inboxes. This makes a professional email address linked with your own domain of utmost importance. It builds trust and credibility of your professional email address Gmail with lesser risks of your emails bouncing to the trash cans.
Reason #8 - To Organize email by Purpose and Development
As discussed before, assigning specific business emails for specific verticals or departments of your business brings credibility to your business. It helps you to manage your workload by managing communications that are relevant to only a particular business department. It amplifies the importance of a professional email address by appearing as if you are an established presence and have multiple departments with multiple teams. 
Reason #9 - Cost-Effective and Affordable
Email Marketing tools like business email marketing are very impactful with performance and least expensive in costs. In this digitized world, business email marketing is on the verge and is achieving higher results in comparison with other traditional marketing strategies. Business email marketing decreases the per customer marketing costs as you can send bulk emails to a large number of customers at nearly nothing per email.
Reason #10 - Easy and Economical to Measure
Performing an email marketing strategy using business emails, helps you to easily track who opens your mail, which mails were ignored, how many mails were unread, what were the CTAs clicked, and what kind of audience clicks through specific kinds of emails more. You can easily track down the performance of your email marketing campaign and then make alterations and adjustments in your upcoming campaigns. 
Reason #11 - Simple to Personalize and Customize
Using your business email address appropriately to perform segmented and tailored email marketing strategies helps you to create more personalized and customized emails that bring some value to your readers. Here is where the importance of email marketing comes into the picture where you make the perfect use of the email marketing benefits by addressing people individually by name, preferred topics, and other personalization aspects. It helps to build business engagements and good relations with prospective customers in a more friendly and personalized manner. 
Reason #12 - To Effectively Collaborate with your Team
A Professional email address comes with extra added features like the shared calendars, documents, sheets, etc. that help you to collaborate and coordinate with your teammates better. You can make the most of the efficient professional email address ideas like managing meeting requests, check the availability of your teammates, sending virtual meeting requests, sharing documents and other files, etc.
Investing in custom email address services will lift your brand's image to new levels. It will develop credibility, trust, confidence, and recognizability among your customers for your brand. This will ultimately help you to enhance your brand awareness and promote effective email marketing strategies. 
Business email hosting or say custom email hosting will develop your business's reputation and help you to grow with more authenticity. To find the best and the most secured email hosting plans for your business, contact the most professional in the industry, Ideastack! Ideastack will help you with offering the most productive email hosting services for professional emails that will uplift your brands to exponential levels. 
Frequently Asked Questions
Email does not work like a direct transfer from the sender's point to the receiver's point. It goes through various filters in between and travels at the speed of light. In the whole process, the emails just bounce from one server to the other before reaching to the ultimate recipient.  
Q) How does email work with WordPress?
Most of the plugins who are sending emails, send mails using the WordPress function wp_mail which is considered to be a core function of sending mails with WordPress.
Summary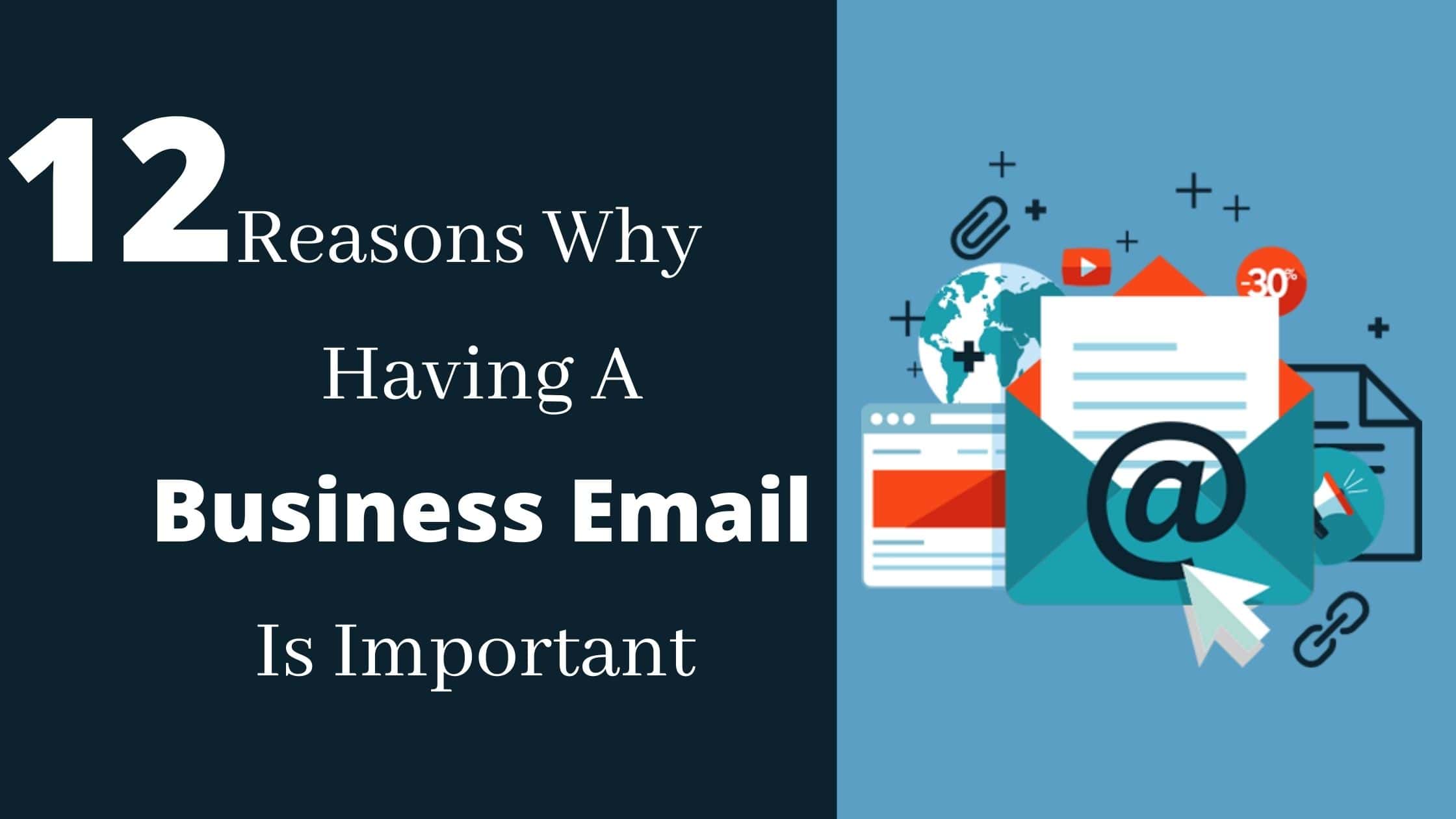 Article Name
12 Reasons Why Having A Business Email Is Important?
Description
When you use business email address to reach out to someone or to communicate through mail, it would certainly look more professional and credible to the person you are communicating with. A professional email address sets a credible image in front of your customers.
Author
Publisher Name
Publisher Logo