WordPress is an open-source Content Management System (CMS) that makes it easy to building and managing websites. It is the most widely used Content Management System in the world. WordPress is used by millions of business owners, bloggers, and publishers every day to manage their online presence.
WordPress is a free, open-source platform for building websites. WordPress is a Content Management System (CMS) created in PHP that uses a MySQL database on a more technical level. WordPress is the most user-friendly and powerful blogging and website-building platform available today.
WordPress is a great platform for a wide range of websites. WordPress is a flexible CMS that can be used for everything from blogging to e-commerce to business and portfolio websites. WordPress is an excellent choice for both large and small websites, as it was designed with usability and flexibility in mind.
WordPress began in 2003, when two developers, Matt Mullenweg and Mike Little, set out to create a new blogging platform based on top of a discontinued software called b2/cafeblog. They opted to stop the project shortly after it was abandoned and continue work on their own terms.
The first version, WordPress 1.0, was released in January 2004. It didn't look anything like the feature-rich content management system we know today as WordPress. The WordPress editor, an easy installation process, customized permalinks, a user management system, and comment moderation tools were all included.
WordPress has evolved dramatically since its creation in 2004. Thousands of people around the world contribute to the WordPress project, which is now developed, managed, and maintained by a dedicated open-source community. They work remotely, with many of them volunteering, and meet in person at WordPress's distributed conference called WordCamp.
What is WordPress used for?
WordPress is used for people of various skill levels. It's the world's most popular self-hosted content management tool, powering more than 26% of all websites. WordPress is used by more than half of all websites that employ a Content Management System. Because of its popularity among publishers, online businesses, and individuals, millions of people read the content published on WordPress sites every day. This powerful, easy CMS is used by brands like People magazine, Mashable, and even Beyonce.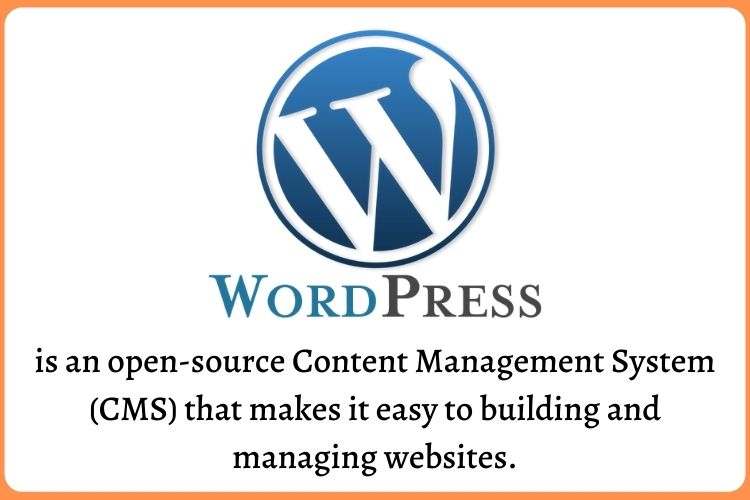 People used to question, "What Can WordPress Do?" in the early days of WordPress.
With WordPress's capabilities having grown so much over the years, I feel a better question to ask now is, "What Can't WordPress Do?" since the software may be used to create almost any website layout.
WordPress will always be known as a fantastic blogging platform, and this is still true today.
The WordPress editor is the heart of WordPress. called  Gutenberg, the editor allows you to create and design pages with simple formatting toolbars and a drag-and-drop page builder.
Whether you're writing daily blog articles or using WordPress to create static sites, you'll appreciate how simple the WordPress editor is to use.
The basic version of WordPress is the one that can be downloaded from wordpress.org/download/.
While the default WordPress theme in depth Twenty Twenty can be used to create a website, the great majority of website owners prefer a more advanced WordPress design. Plugins are also installed to bring more features and functionality.
You may expand what you can do with WordPress by using themes and plugins. You can use WordPress to create a variety of websites, including directories, discussion forums, portfolios and galleries, blogs and magazines, eCommerce websites, business websites, membership websites, online courses, hotel bookings, dating websites, question and answer forums, knowledge bases, and a simple CV website.
In a nutshell, WordPress can be used to build nearly any form of a website. All you need to do is find the proper WordPress theme or plugin to assist you.
What is the difference between WordPress.org and WordPress.com?
There are a few things to keep in mind if you're just getting started with WordPress. First and foremost, you must understand the differences between WordPress.com and WordPress.org.
If you're new to WordPress, the difference between WordPress.com and WordPress.org can be a little confusing.
What kinds of Websites can WordPress make?
Many years ago, WordPress used to be largely a tool for creating blogs, rather than more traditional websites. But it hasn't been the case in a long time. You can now create any form of website with WordPress thanks to updates to the core code and the large ecosystem of plugins and themes.
For example, WordPress is not only the most popular option to construct an eCommerce store, but it also powers a large number of company sites and blogs. You can make the following things with WordPress:
If you use WordPress to publish on the web, you may relax knowing you're not alone. NBC, CBS, USA Today, Time, Disney, Airbnb, Spotify, TechCrunch, and even the Pioneer Woman are among the many well-known blogs, news outlets, music sites, Fortune 500 companies, and celebrities who use WordPress.
If you're ever wondering about who uses WordPress, visit the WordPress site showcase, where you'll be astonished by the number of well-known sites and celebrities who use WordPress to run their websites.
WordPress is referred to as Content Management System (CMS). It's similar to having an operating system for your website. You can utilize any of the thousands of add-ons that have been built for WordPress when you utilize it.
WordPress is hosted on a web server. WordPress can be accessed using a basic web browser on a computer or mobile device. Because WordPress takes care of the heavy lifting, you won't need any additional software to create and manage your WordPress site.
WordPress requires a database server to store your content and site settings, as well as a web server to serve your web pages to visitors. PHP and JavaScript are used to create the basic WordPress application.
But don't be scare by the technicalities. To utilize WordPress, you don't need to know anything about these associated technologies. WordPress protects you from having to learn SQL or other programming languages. However, if you're the type who enjoys tinkering, you could find the technical details fascinating.
Is WordPress easy to use?
You've never developed a website before, right? That is not an issue! You don't need to know anything about HTML, CSS, or any of the other acronyms that web developers love to put around.
You also don't need to be a designer. Thousands of free WordPress site designs are available to select from. In the WordPress world, these pre-made templates are referred to as "themes".
It's simple to create a professional-looking website with WordPress without writing a single line of code.
WordPress is completely free to use and customize. You get full access to the source code as well. If you enjoy tinkering with coding, you can dig in and make WordPress do almost anything you want.
WordPress is released under the GPL, which is an open-source software license. This license guarantees that WordPress will remain free and that site owner will retain complete control and ownership of their online creations.
Unlike other "free" website solutions, such as Wix, Weebly, or Squarespace, WordPress does not bind site owners to a proprietary service.
Your WordPress website can be hosted anywhere. You can also switch your WordPress site to another hosting service at any moment if you're unhappy with your current WordPress host.
Is WordPress right for you?
If you're curious about why WordPress is such a popular website content management system, consider the following advantages of WordPress as a website platform:
WordPress enables you to swiftly publish and build your website's content. WordPress is simple to use even for a beginner.
The WordPress software can be downloaded and used for free from WordPress.org. However, you will have to pay for site hosting as well as a domain name.
WordPress enables you to build a wide range of websites, including personal blogs, online commerce, and online magazines and newspapers.
If you can use Microsoft Word to create and manage a document, you can use WordPress to create and administer a website.
WordPress is free software released under the GNU General Public License (GPL), which means it is not owned by a single company or organization. Hundreds of developers and users cooperate with the program and contribute to its growth. The spirit of open-source implies continuous improvement, accountability, and unrestricted use for all.
WordPress does deal with the necessity to know how to code to create a website. WordPress uses several different code languages, but you don't need to know any of them to use it.
Extendable with WordPress plugins:
WordPress plugins can be used to extend the basic WordPress program. WordPress plugins are small pieces of software that you may install on your website to enhance its functionality. On the WordPress.org plugin directory, there are thousands of free WordPress plugins and a thriving premium (paid) plugins sector.
Highly customizable with WordPress themes:
Your website's design and layout are provided by WordPress themes. You may change the entire look of your website with a single click of a button by installing a new WordPress theme. Advanced WordPress themes are more similar to WordPress page builders, offering you even more layout flexibility.
While no website platform is completely secure, WordPress security is improving thanks to a dedicated security team of core developers and users. User error, rather than the software itself, is the most common cause of WordPress security issues.
A thriving community of users and developers:
You can participate in the larger WordPress community by attending local WordPress Meetups, WordCamps, and other events if you have a WordPress website. The WordPress community has a reputation for being extremely friendly, helpful, and forward-thinking.
Premium plugin and theme industry:
While many free plugins and themes are available, most serious WordPress website owners choose premium (paid) plugins or themes. What is the reason for this? Your purchase of a respectable premium plugin or theme contributes to the plugin's or theme's continued development and maintenance, which includes new features, security fixes, and other updates.
WordPress is a free website platform with a lot of flexibility. It enables you to create a wide range of websites. WordPress is the platform to use whether you want to start a blog, build an online portfolio, or create video tutorials. You have a lot of alternatives, it's simple to get started, and you can quickly learn WordPress and obtain guidance from a variety of places.
Frequently Asked Questions
Q1. What is a WordPress Website?
Any website that uses WordPress as its Content Management System is referred to as a WordPress website. Both the backend and the frontend of the website are powered by WordPress.
Q2. What is a WordPress Plugin?
A WordPress plugin is a collection of extra code that you may install on your site to provide new features, functionality, or integrations.
Q3. What is a WordPress Theme?
Your website's design "framework" is provided by a WordPress theme. The majority of WordPress themes include:
Some themes work similarly to WordPress page builders, allowing you to create custom page layouts without having to write any code.
Q4. How do I learn WordPress?
There are numerous resources available to help you learn how to utilize WordPress. From the many books accessible to online courses and local training sessions, there is something for everyone, regardless of their preferred learning style.
Q5. How do I download WordPress?
You can get WordPress for free from WordPress.org, but you won't need it. From their online management panels, most web providers provide one-click WordPress installation.
WordPress, unlike traditional desktop software, is a web-based application. You don't need to install anything on your computer, and you don't require any special software. You may make changes to your website from anywhere with an Internet connection, including your smartphone. For iPhones and Android phones, there are even free WordPress mobile apps.
Q6. Can I install WordPress on my personal computer?
WordPress, as I previously stated, is a unique form of web server-based software. However, this does not exclude you from installing WordPress on your personal computer. It does, however, imply that you must install all of the necessary technologies that WordPress requires to function.
There are numerous reasons why you might wish to install WordPress on your computer. Before you sign up for a web hosting account, you might want to obtain some hands-on experience. Perhaps you'd like a secure environment in which to experiment with your current website without the worry of breaking it.
Q7. How do I get WordPress support?
The WordPress community of users and enthusiasts is continually growing as the platform's popularity grows.
There are plenty of locations to receive WordPress help when you need it, thanks to its large open source community. Support forums are available on WordPress.com  and WordPress.org.
Members can get help from independent training websites like WP Apprentice. There are also hundreds of WordPress books available to help you along your WordPress journey.
Check to see if there's an upcoming WordCamp event near you if you'd like to connect with the WordPress community in your region. One of the greatest methods to meet WordPress specialists in your region is to attend a WordCamp.