Free Web hosting surely sounds a lot tempting and something you would never want to miss out isn't it? If web hosting was free, everyone would have used it right. Well, there are some web hosting services who actually host sites for free, but still not everyone opts for those free web hosting services. Want to know the reason why?
Well, free web hosting services don't come with dependable web hosting options. They do not come with assured quality and performance. This can keep your website's performance uncertain and can cost you your business. Being the reason why free web hosting can turn out to be dangerous.
Here we are to help you out with the following discussion where we will bust some of the widely revolved myths and facts about free website hosting. We will also help you understand which type of website hosting & service provider should be preferred among free and paid providers.
But Firstly,
What is Web Hosting?
Web Hosting refers to hosting of the website disk space to host any business's website on the web. It functions like an HDD or SSD drive to store and manage website media files like images, videos, fonts, notes, content, etc. This website and hosting are assigned a website domain on the IP based on the website's location. Under this domain, the website appears on web.
How does web hosting work?
Well, it works normally as we search on the search engines. It works basically like –
1. Type in the domain name of the website in the browser.
2. The browser will direct you to the domain listed.
3. The domain will then redirect you to the ultimate website hosting through IP address.
4. The website opens and you can view and navigate the websites files on the website.
The only success factor for having a result seeking website hosting is through reliable hosting companies. These reliable hosting providers offer great loading speed and features of web server that will increase the performance of your website by miles.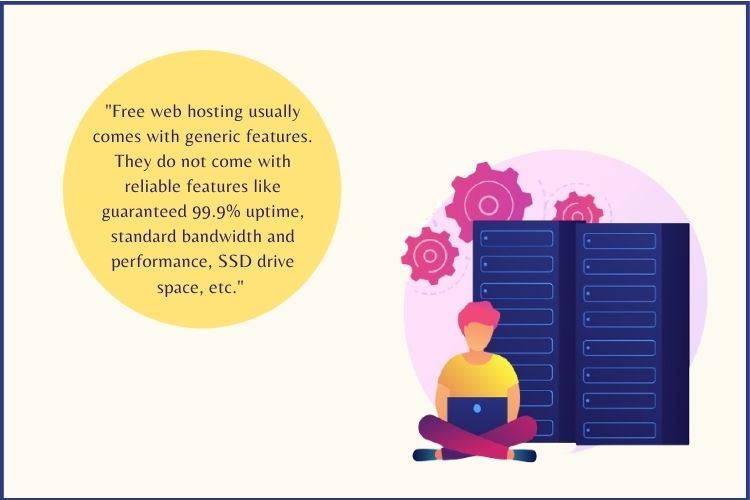 What is Free Hosting?
Whenever the word "FREE" arrives everyone gets attracted to it regardless of understanding what could be the outcomes. However, when it comes to website hosting, free website hosting will just save your money not your website!
Free web hosting usually comes with generic features. They do not come with reliable features like guaranteed 99.9% uptime, standard bandwidth and performance, SSD drive space, etc.
How does it Work?
Firstly, the way free web hosting happens is itself not at all possible without bearing extra costs. Even the free website hosting companies cannot get anything for free. They will also have to bear hardware costs of SSD, HDD, drive, RAM, processor, etc. Along with that it would need a probable engineer and a regular space maintenance to manage the upkeep of the hosting providing server.
So anyhow it would involve costs. Still some web hosting companies offer their customers web hosting services for free to promote their web hosting digital marketing strategies. This attracts customers and ultimately leads to increase in purchases. Though free web hosting offer cost-efficient advantages, it still lacks with disadvantages in performance.
In the following blog, we will be listing down some of the myths regarding free web hosting services by which you would fairly understand the free web hosting advantages and disadvantages.
15 Myths about Free Web Hosting –
Myth #1 – Free Web Hosting is 100% Free
When you land in a commercial value world, there's nothing entirely free. Companies offering free services lack in credibility, performance and quality. Free versions will sooner or later will lead you to upgrade to premium plans with a reputed hosting provider. Also, free web hosting services are for a limited period only. This means, you would soon be asked to pay for the same.
Myth #2 – Free Web hosting is great for Startups
Even if it is your startup, free web hosting can cost your business millions. It can negatively affect your website conversions and rankings with contaminated site building tools like slow loading times, poor page performance and appearance, information leakages, casual addresses, and risk of shutting down. Free website hosting companies never guarantee you qualified performance.
Myth #3 – Free Web Hosting is Safe
Many of the free web hosting providers do not offer SSL certificates in the free web hosting services offered by them. For security measures like SSL and DDOS protection, you would have to specially upgrade your plans which will then incur you charges for sure. This exposes your online visibility to various hackers and other malpractices to steal your confidential information easily.
Myth #4 – Good Web hosts are Expensive
Well not all good host are expensive! Even paid web hosting services are utmost worthful to your money as they bring you performance and ultimately profits. They sustain your web presence with great power, bandwidth, uptime, and security to make sure your business strives through its noteworthy advantage and benefits. Most importantly when you employ a paid web hosting provider, everything from head to toe is managed by them itself. So, you can focus more on your venture without worrying much of your web hosting.
Myth #5 – Free Web Hosts allow the same Monetization Opportunities
Most of the free web hosting service providers try to take your website as a medium for their advertisements. They try to run their ads, AdSense, and attach affiliate links on your website. Also, many free web hosting providers would also aim to restrict you to monetize blog as they would already have their ads being posted on your website.
Myth #6 – Free Web Hosts will Backup your Website
Most of the free versions of the web hosting plans would never come with inclusive backup services. If there are no backup services, then it would lead to a high risk and failure to restore information by any chance.
Myth #7 – Free Web Hosting provides E-Commerce Features
Ecommerce or say the online store requires a huge amount of hosting power to make the websites run smoothly even during high traffics. Most of the free web hosting platforms won't provide you such power along with database access and SSL certification or security measures guaranteed. This could cost your ecommerce website intensively as it would need to hold a lot of confidential information about your customers as well.
Myth #8 – Free Web Hosts have their Own Data Centers
Many of the free web hosting providers will try to hint as if they have their own data center with private servers. Though, unless it is explicitly mentioned by them with full authorization, never believe them! Free hosting solutions are generally made cost-effective and are not made with big investments. On the other hand, a paid hosting solution would guarantee you utmost command over data centers and their servers that is streamlined with extreme security protection. You are also allowed with free database access without any restrictions.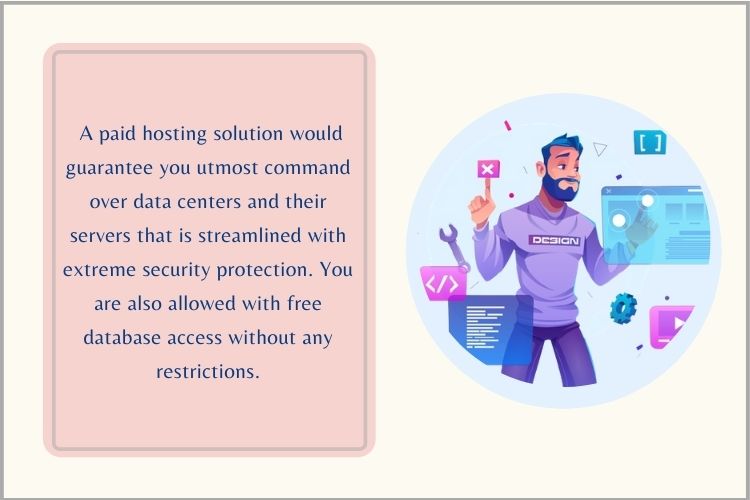 Myth #9 – You can Easily improve your Free Website
Free web hosting services don't come with the plugins and latest scripts. They are very generic and can't allow your website and server to be customized easily. So if you want to move up the ladder in this web game, you would have to upgrade to paid plans anyhow.
Myth #10 -Unwanted Advertisements destroy the websites hosted under a free host
As discussed before, free web hosts will try to run their own advertisements on your websites. They also run their ads on high frequency which loses the reputation of your host website and also loses interests of your visitors. This will ultimately decrease your own website's subdomain and profile.
Myth #11 – Free Web Hosting comes with Free Support
Well, support services are not offered mostly by free hosting services. You won't get any technical support or guidance to run your website or to fix any problem. Instead, paid web hosts are the best web host who offer you 24/7 technical support services for all your web hosting related problems.
Myth #12 – Free Web Hosting is great for Small Businesses
Free web hosting plans are of no costs generally but could be highly costly for any website's progress regardless of any size or need. Free hosting plans do not guarantee you quality performance which might ultimately lead your small businesses and startup's reputation go in vain without even getting developed. Free web hosting can lead to poor user experience and lower clicks which will ultimately have negative impacts on your conversion rates.
Myth #13 – Free Hosting has plenty of features
Free website hosting is actually the opposite. As they are free, they just come with basic web hosting features that just launch your website on web. They are vulnerable to various security threats and will surely level down your website's performance sooner or later. Instead, paid hosting services are assured and guaranteed with powerful features and services that will keep your websites updated and responsive every time.
Myth #14 – Only HTML is supported by Free Web Hosts
Nowadays, many free hosts support not only the static websites but also the other website development like PHP, ASP, MySQL, SSI and CGI-BIN.
Myth #15 – Limited Bandwidth and Disk Space
Bandwidth and Disk space are actually not much of a problem when you go along with free website hosting services. Though they are not limited to a lower extent as on an average you might get 5 GB of bandwidth and 250 MB of storage. Still, they are limited above that as you would have to upgrade to a premium plan then. Though this level of bandwidth and disk space might not be as finite resource for established businesses to generate good website performance and yield website traffic they are aiming for.
Tips for Free Hosting Account
• Always run legal sites from your free website and web hosting account.
• Never leave your website unattended for more than a month.
• Always keep your site updated with fresh graphics and content.
• Read the Terms and Conditions carefully.
• Make sure the free hosting site services are backed by customer and technical support.
• Backup your files in regular intervals.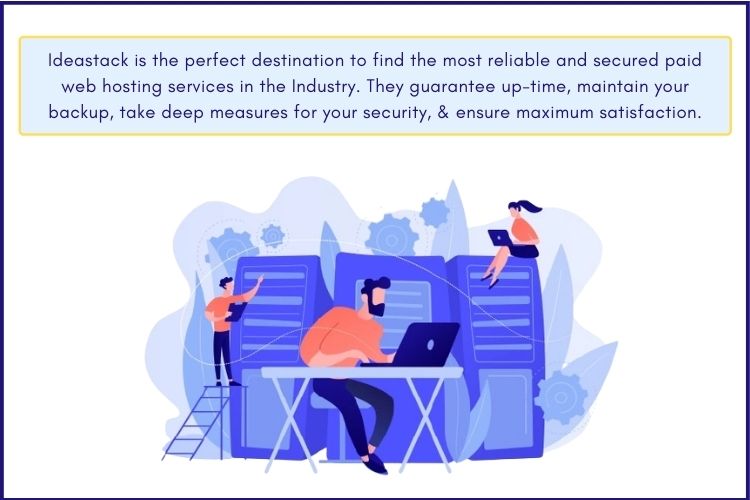 Conclusion:
Though as tempting as Free web hosting services sound, the more could be its pitfalls on your website's performance. Yes, there are web hosting providers who offer free web hosting, but they would never guarantee you performance and reliability. Free web hosting services can be useful only when the usage is shortage, or the required bandwidth is less. Still, it will lose the battle when it comes to assured quality performance against reliable paid hosting service.
The paid hosting services are considered the most excellent web hosting service to go with if you are aiming to produce some real quality performance with your website. The Uptime, security and unlimited bandwidth is guaranteed with the back of an experienced support team with paid web hosting.
Hence it is always recommendable to go for Paid web hosting services when it comes to free vs paid web hosting.
Ideastack is the perfect destination to find the most reliable and secured paid web hosting services in the Industry. They guarantee up-time, maintain your backup, take deep measures for your security, and ensure maximum satisfaction. Browse through our Ideastack website today!
FAQ
1) What is Paid Hosting?
Paid hosting is the website hosting services you pay for. A customer paying for website hosting can expect advanced features along with Reliable & quality hosting services with high-end uptime, security, and performance. Though not every paid hosting is productive to host your own site. It is important to do a thorough research before and find the most affordable premium hosting that comes with quality features and then go for the same.
2) Is free hosting preferred over paid hosting?
Well, honestly, in some situations free web hosting services proves to be the ideal solution. As it could be projects or for the Non-profit organizations. Though paid web hosting is still the unraveled king in the world of web hosting when it comes to quality web page hosting with sheer performance and assured credibility. Paid hosting is a necessity for businesses looking to make it big on the web.