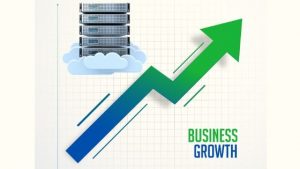 As we know that the ultimate goal of a business is to achieve its objective of profit maximization and it could be done only with the coordination and synchronization of efficiency and effectiveness combined with a powerful dedicated server to boost performance, Handle high volume of traffic  & secure their data in a virtual environment.
As a website grows it is quite common for these owners to set up their own dedicated hosting web server which could lead the business in the pathway of efficiency and effectiveness. 
What is required for a large business?
Larger websites tend to use more resources such as Higher Bandwidth, server CPU, that shared hosting platforms aren't able to provide. The dedicated server can handle an enormous amount of traffic diverting towards your website that makes you get an access to an entire server and is considered extremely secured with the best security patches and regular operating system updates.
Dedicated servers are as the name implies, a server providing with all the uses and the resources dedicated to a specific user's CPU, memory, etc. They act as exactly as you want to use them. You can host upto 200 to 250 websites in a dedicated server. The best thing about dedicated servers is that you yourself can manage with your technicians, engineers, and developers or get a managed dedicated server from us. 
Benefits of Dedicated Server
1. Dedicated server provides better control and flexibility since you have a web server all to yourself. There are no restrictions on what programs you can install on it or on your website.
2. Dedicated servers hold many beneficial advantages like it reduces the dependency on web hosts and reduces time delays and possible expenses incurred from these. Dedicated hosting is considered as the better option comparatively when performance is being concerned as it manages to handle the high website traffic with pure ease.
3. It works by its name i.e. dedicatedly for optimized functioning and minimizes complications realized by the web host as it keeps running the things quickly and efficiently whether even it is about loading high-resolution photos or videos.
Need for Dedicated Server
The need for a dedicated is realized when your business starts facing loss because of your site speed. For a business, if a website that is fast and user-friendly all the time gives the visitor encouragement that your service is just as reliable, hence it would lead your business to increase and more likely to make a sale. 
Where to buy dedicated server?
There are numerous dedicated server providers with attractive offers but we would suggest that you take a demo of servers before purchasing.
Ideastack ensures you top-notch dedicated server to scale your business.you can even customize your own dedicated server with our web hosting experts just click on the live chat option & configure in 3 easy steps only!