Security Plugins of WordPress that will prove to be useful for you.
WordPress is a way to show yourself to the world, market yourself, start your own way. With WordPress, you can start any kind of blog you want to be about poetry or food or music. WordPress is an online, open-source website creation tool written in PHP.
But in non-geek speak, it's probably the easiest and most powerful blogging and website content management system in existence today. You can pour your heart out and if you become famous then you can start earning from doing what you love.
Making your WordPress site more safe and secure requires an understanding of what security options are available to you from within the platform and from third-party tools.
In an effort to protect WordPress users, the platform's developers have built-in a number of features intended to support site security. Taking advantage of these settings, introducing third-party security plugins, and following WordPress security best practices offer the best odds of keeping your site safe.
Above are a few options for the WordPress security features. Even after all the steps taken by WordPress, many users take the additional step of installing a third-party security plugin. These security plugins can be broadly categorize into two groups: full security suites and single-issue security plugins. For more details check our WordPress hosting.
Frequently Asked Questions
Q1. What is security plugin used for?
A WordPress security plugin guards against malware, brute-force attacks, and hacking attempts. Security plugins are intended to prevent assaults and offer complete security reports for your WordPress site.
Q2. Why WordPress security is important?
A hacked WordPress site can have major consequences for your company's revenue and reputation. Hackers can steal user information, passwords, install dangerous software, and even distribute malware to your users.
Q3. What are plugins used for in WordPress?
A WordPress plugin is a piece of software that "plugs into" your WordPress site. Plugins allow you to create nearly any type of website, from ecommerce stores to portfolios to directory sites, by adding new feature or extending current functionality.
Summary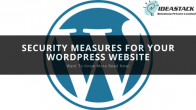 Article Name
Security Plugins of WordPress that will prove to be useful for you
Description
How to use Security Plugins of WordPress that will prove to be useful for you. Check out our post to know more.
Author
Publisher Name
Publisher Logo