How To Choose The Right Dedicated Hosting For Your E commerce portal
A dedicated hosting service, dedicated server, or managed hosting service is a type of web hosting in which the client leases an entire server not shared with anyone else.
For small businesses as well as big businesses, no matter the size, they must have an e-commerce site that maintains high performance and high security. If they don't, then they will likely lose customers and profits.
Why Choose Dedicated Servers For Your E-Commerce Website?
For a small business, running an e-commerce site can be a time-consuming and complicated task, particularly if the business does not have the budget and physical resources to properly manage the e-commerce site. To avoid such issues with an e-commerce site, more small businesses are choosing dedicated servers because getting more traffic. But A small business doesn't necessarily mean a small amount of traffic or resource demand.
In fact, in many cases the exact opposite is true. Small business websites can sometimes have a resource requirement that is above and beyond what they think they need. Also, websites that use shared resources in a shared hosting package are prone to downtime.
What Are The Features Of a Dedicated Server That Will Help Your E-Commerce Website?
This is possible for dedicated servers, but rarely for shared hosting (for website). If your business was down for a day or two, you would probably end up losing a handful of customers who are used to making frequent recurring purchases. This would be a terrible thing, especially if it happens more often than once in a while.
Choosing the right dedicated hosting for your e-commerce portal is crucial for maintaining high performance and security. Dedicated servers are ideal for large-scale operations but can also benefit small businesses with high profits. They provide full control, allowing you to use customized commerce software and background processes. Dedicated servers also offer data backup services, which are essential for preventing downtime and customer loss. For more information on dedicated servers, visit Ideastack.
Frequently Asked Question
Q1.How does dedicated hosting enhance website performance?
With all server resources dedicated solely to your e-commerce site, you experience faster load times, higher uptime, and less frequent crashes.
Q2.What kind of security features can I expect?
Most dedicated hosting providers offer advanced security measures, including firewalls, SSL certificates, and regular software updates.
Q3.How do I assess my hosting needs?
Consider your current traffic, projected growth, security needs, and customization requirements when evaluating dedicated hosting options.
Summary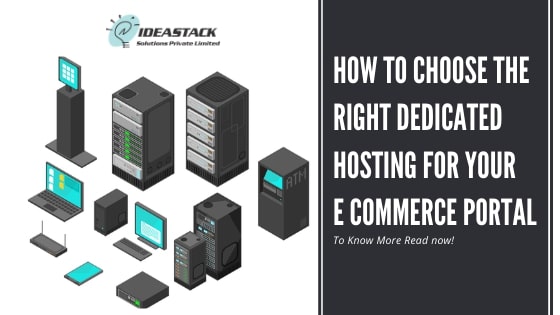 Article Name
How To Choose The Right Dedicated Hosting For Your E Commerce Portal?
Description
Businesses use dedicated servers (from the web site) because it's the best option for large-scale operations. However, small businesses can also take advantage of a dedicated server if their profits are high enough to warrant their use
Author
Publisher Name
Publisher Logo