5 reasons why Ideastack VPS outperforms its competitors
In today's competitive digital landscape, choosing the right Virtual Private Server (VPS) hosting provider is crucial for businesses and individual websites. With numerous options available, it's imperative to differentiate among them. One provider that has continuously stood out is Ideastack. In this article, we'll delve into five key reasons why Ideastack VPS outperforms its competitors.
1. Cutting-Edge Technology and Infrastructure
Ideastack prides itself on leveraging the latest technologies to deliver exceptional performance. Their servers come equipped with high-speed SSDs, which dramatically reduce website load times and improve overall performance.
In addition to this, their infrastructure is designed for resilience, with redundant power supplies and state-of-the-art cooling systems. This ensures that servers remain operational, even in the face of unexpected challenges.
2. Superior Customer Support
One primary distinction between hosting providers often boils down to the quality of customer support. Ideastack understands the importance of timely and effective assistance. Their support team is available 24/7, ensuring that issues are resolved promptly.
Moreover, their team is knowledgeable, friendly, and always willing to go the extra mile for clients. This unwavering commitment to customer satisfaction sets them apart from many competitors.
3. Cost-Effective Solutions
When selecting a hosting provider, price is always a factor. Ideastack has consistently demonstrated that quality doesn't have to come with a hefty price tag. They offer various cheap VPS hosting plans, tailored to meet the needs of different businesses and individual users.
With Ideastack, clients are not just paying for server space; they're investing in a robust, reliable, and efficient hosting solution that guarantees value for money.
4. Flexible and Scalable Solutions
Every website and online project has unique needs. Ideastack's VPS hosting solutions are built with flexibility in mind.
Whether you're hosting a small personal blog or a bustling e-commerce site, their VPS solutions can be scaled and adjusted to fit your needs. As your sslsite grows, upgrading your resources is straightforward, ensuring that your website continues to run smoothly.
5. Robust Security Measures
In a time when cyber threats are more prevalent than ever, securing your online assets is paramount. Ideastack has incorporated top-notch security measures into their VPS offerings.
From firewalls to malware scanning and SSL certificates, Ideastack ensures that your data remains safe. Additionally, they conduct regular backups, so in the unfortunate event of data loss or a cyber-attack, recovery is swift and straightforward.
In the world of VPS hosting, there's no shortage of options. However, not all providers are created equal. Ideastack stands out due to its advanced infrastructure, unparalleled customer support, affordable pricing, flexible offerings, and stringent security measures.
When choosing a VPS host, it's essential to consider not just the present but the future growth and changes your website might undergo. With Ideastack, you're not just getting a hosting solution; you're investing in a partnership that prioritizes your online success.
Frequently Asked Questions
VPS hosting refers to a Virtual Private Server. It's a method of partitioning a physical server into multiple servers that each has the appearance and capabilities of running on its own dedicated machine.
Q2. Why should I go with VPS hosting rather than shared hosting?
VPS hosting offers more control, performance, and resources compared to shared hosting. While shared hosting is suitable for smaller sites with lower traffic, VPS is ideal for growing websites that require more power and control.
Q3. Is it challenging to migrate my site to Ideastack?
Not at all! Ideastack's support team assists with migrations, ensuring a smooth transition with minimal downtime.
Q4. How does Ideastack ensure the security of my data?
Ideastack employs multiple layers of security, including firewalls, malware scanning, and regular backups, to safeguard your data.
Q5. Can I upgrade my VPS plan as my website grows?
Absolutely. Ideastack's VPS solutions are designed for scalability. As your site expands, you can easily upgrade to accommodate increased traffic and resource needs.
Summary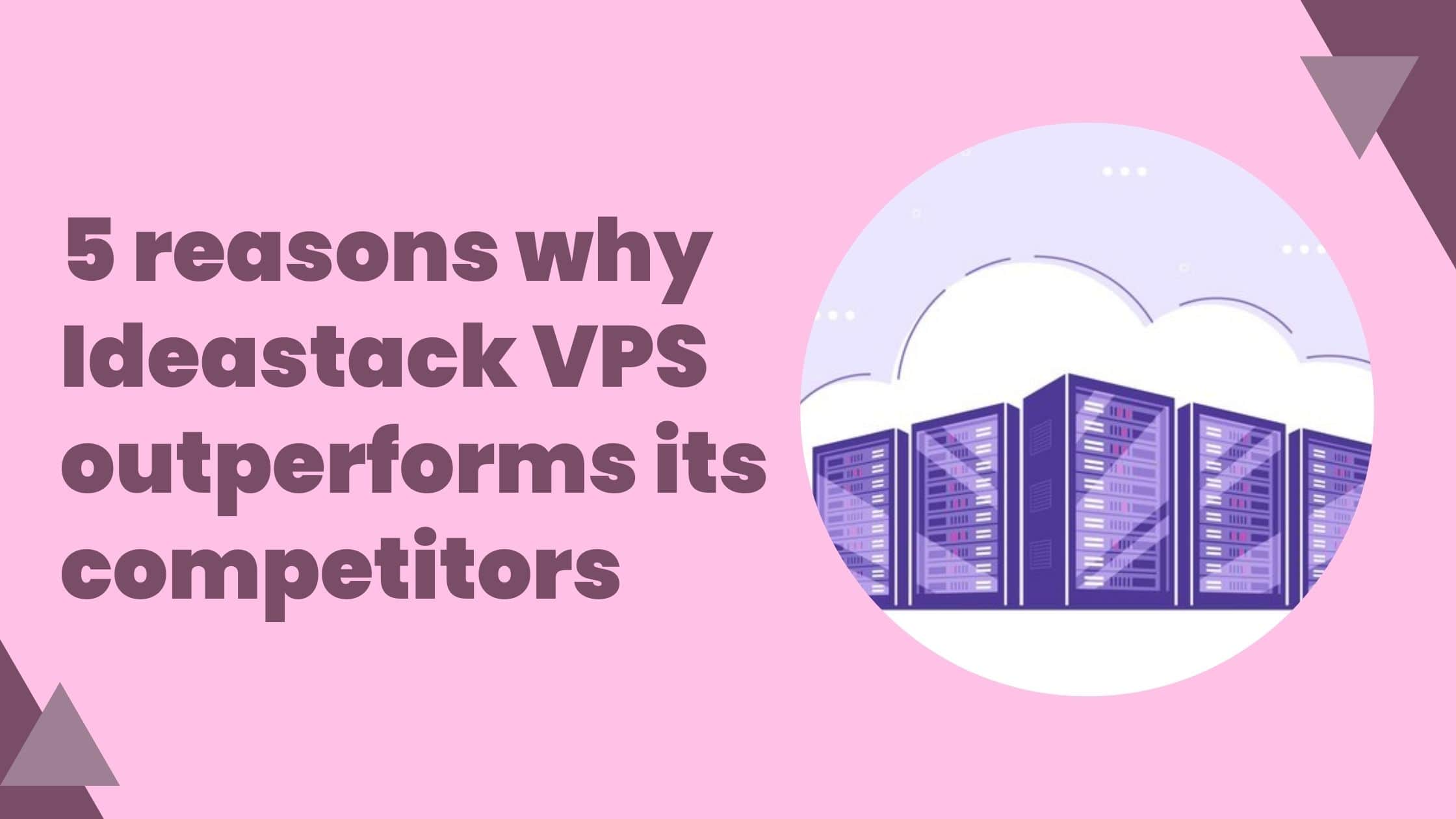 Article Name
5 reasons why Ideastack VPS outperforms its competitors
Description
In today's competitive digital landscape, choosing the right Virtual Private Server (VPS) hosting provider is crucial for businesses and individual websites.
Author
Publisher Name
Publisher Logo