Imagine if you are in hurry to reach for a very important meeting with your client and as soon as you open your bag to look for the pen-drive in which you have stored the presentation is suddenly lost;
What a nightmare that would be!! You're worried & wish you would have a backup file for this situation. Maybe a cloud file or you could have mailed it to someone.
Likewise, your website may also be lost due to many reasons such as server failure, nulled plugin, virus, hacking & without a backup plan in such case your entire data & hard work will get lost and nulled.
In this blog, we'll teach you how to take a backup of your website from cpanel also how to automate the backup process weekly in case if you forgot to take the backup because of any-reasons. If you have any doubts or confusion in the steps feel free to chat with our support team.
Step1: Login to cPanel/WHM->Go to Backup Configuration.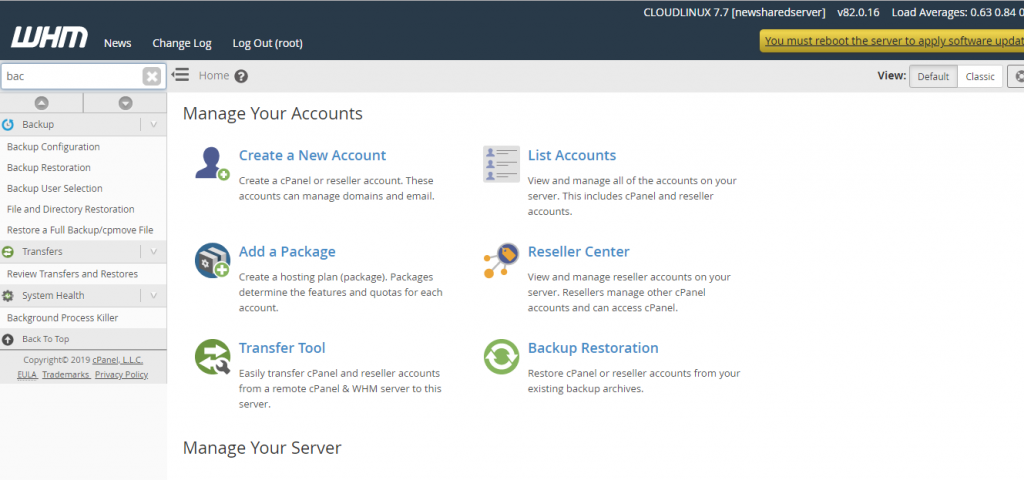 Step2: Under the Backup Settings section.
Backup Status->Tick on Enable Backups
Global Settings->Under Backup Type->Tick on Incremental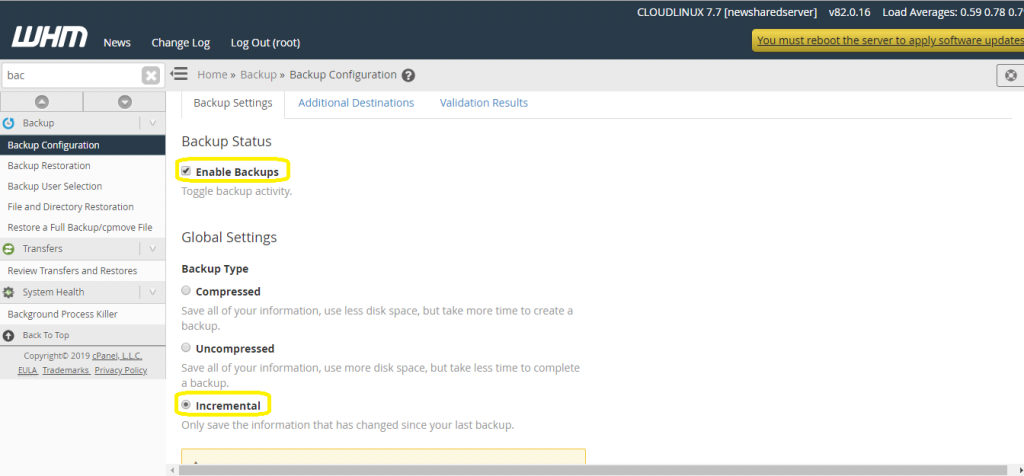 Tick on check the Available Disk Space->2048MB (set as per your requirement)
Maximum Backup Restoration Timeout->21600(default)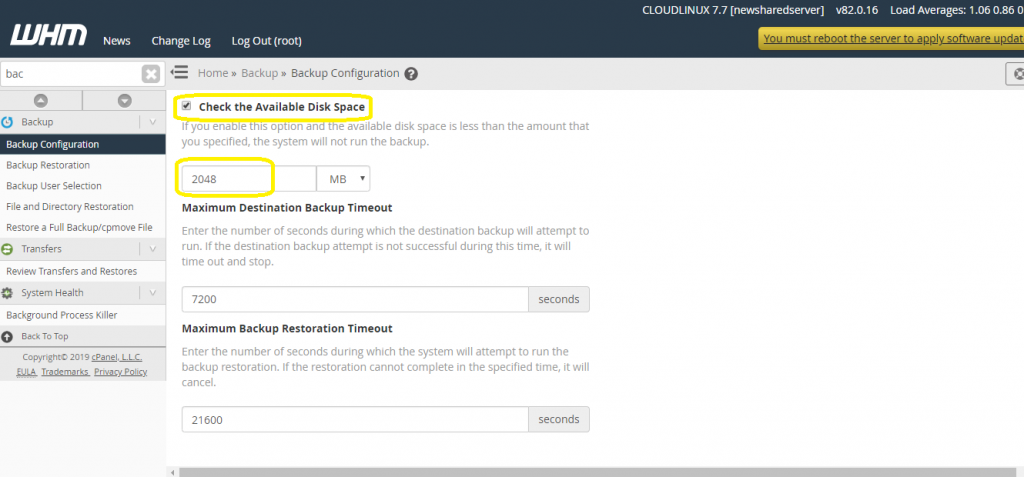 Scheduling and Retention->Tick on Weekly Backup->Saturday (Set as per your requirement)
Retention->2 and Tick on Strictly enforce retention, regardless of backup success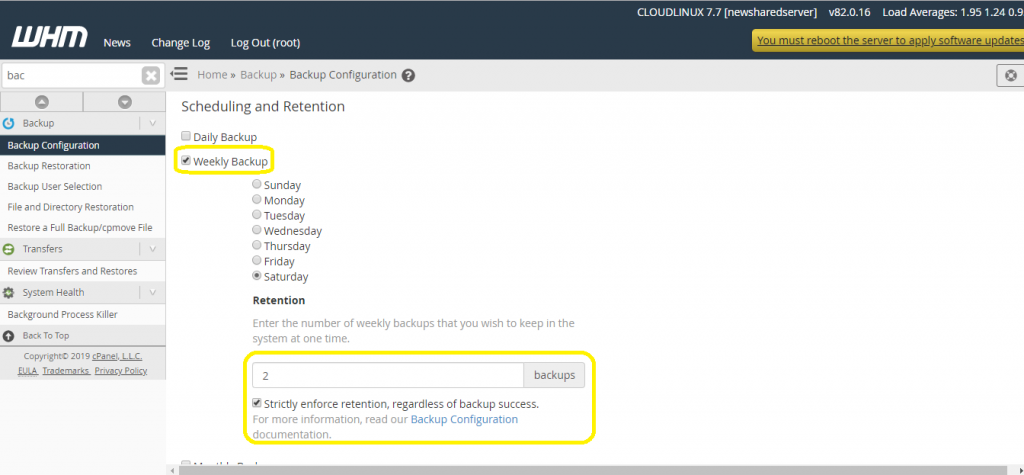 Files->Back up User Accounts and Tick on Back up System Files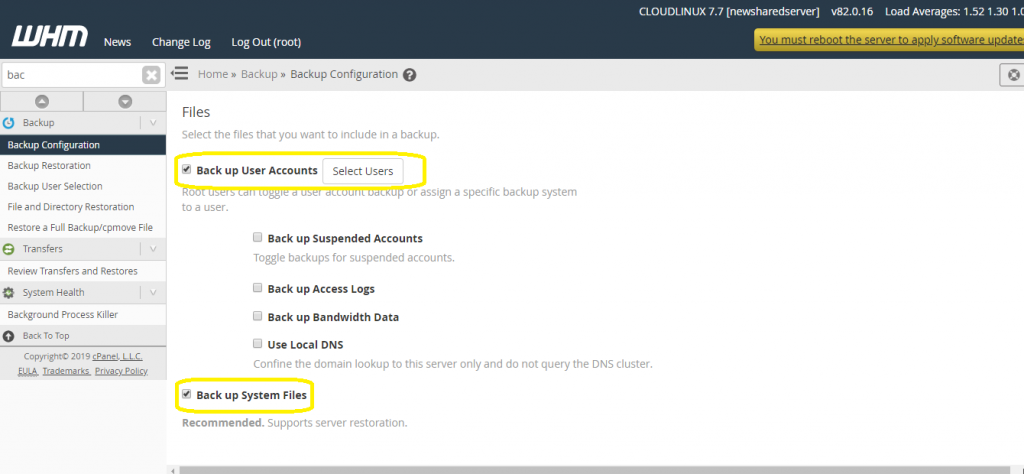 Databases->Back up SQL Databases->Tick on Per Account Only
Under Configure the Backup Directory
Default Backup Directory->/home/rabalebackup (Your cPanel/WHM Server directory where the backup will generate and store)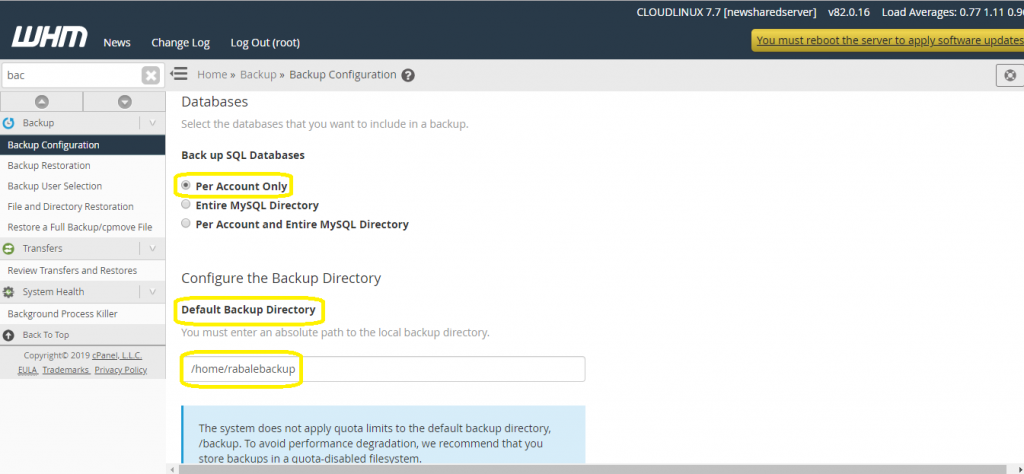 Backup Staging Directory->/cpanelbackup/rabalebackup (This is your remote backup location directory)
Tick on Retain Backups in the Default Backup Directory and click on Save Configuration.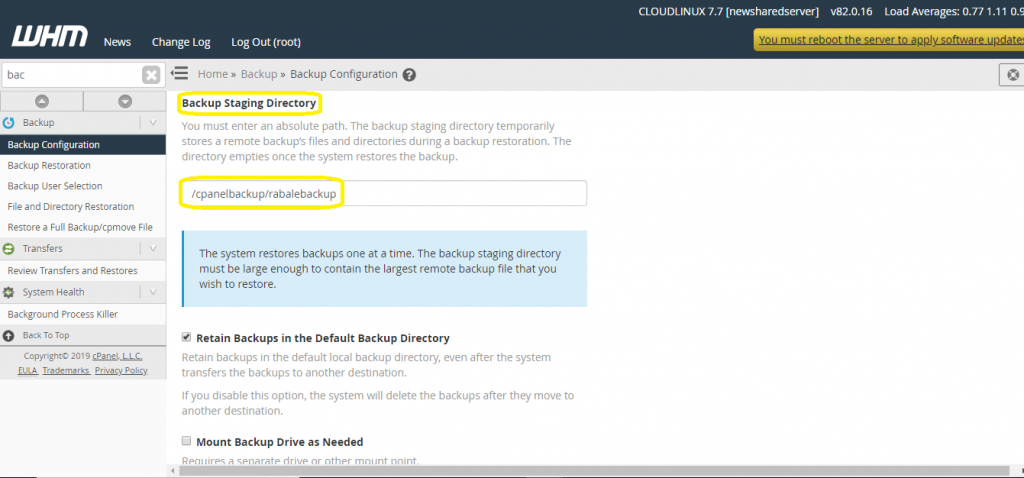 Step3: Under Additional Destinations section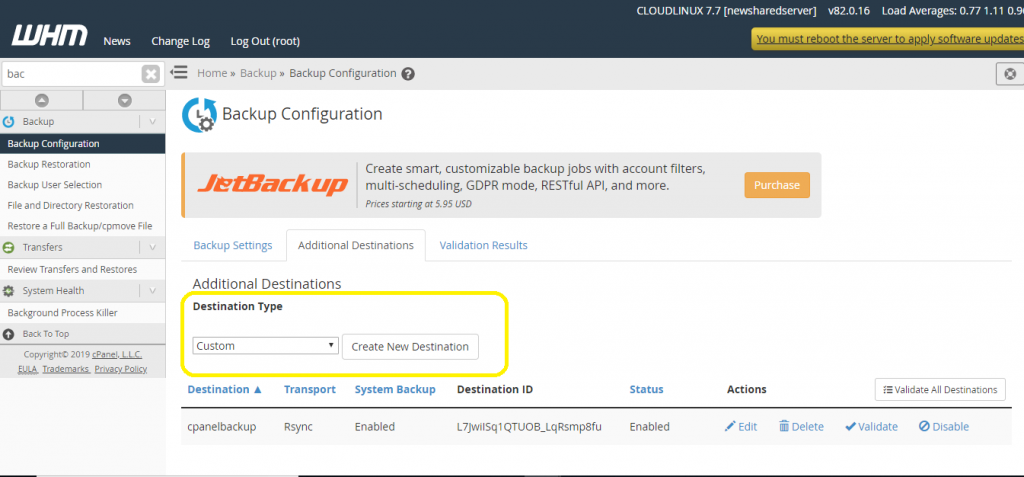 Select Rsync and click on Create New Destination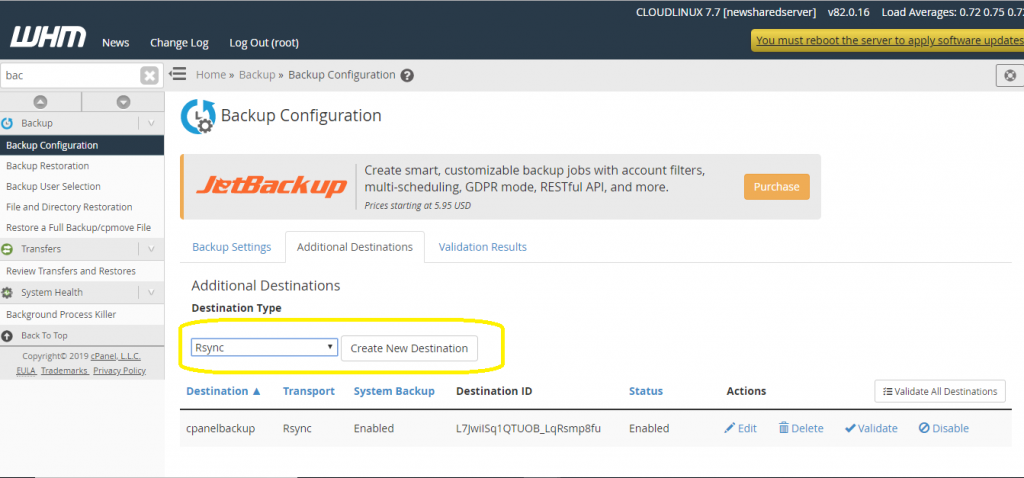 Under Rsync Destination
Enter Destination Name->cpanelbackup
Tick on Transfer System Backups to this Destination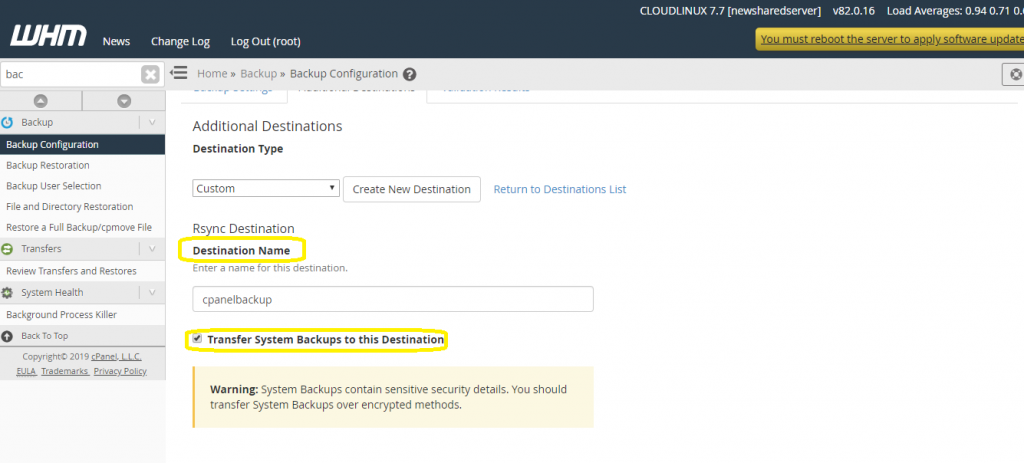 Backup Directory->backup (It is optional)
Remote Host->192.168.1.52(Your Rsync server ip, where you want to store your cPanel backup)
Port->22

Remote Account Username-> root (Your Rsync server username)
Authentication Type->Password Authentication
Remote Password->*******(Enter your Rsync server password)
Timeout->300 (Set as 300) and Click on Save Destination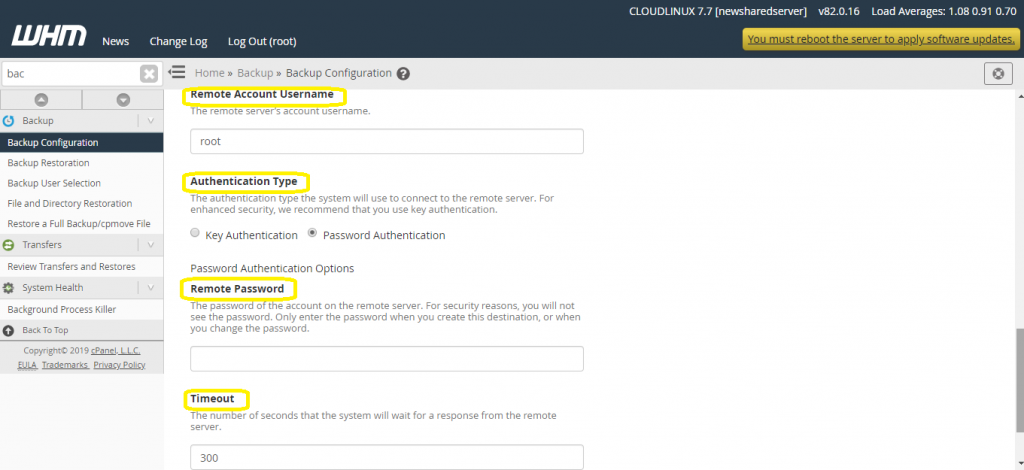 Step4: After completion of your backup settings, now we have to validate our Rsync settings. So, click on Validate Button.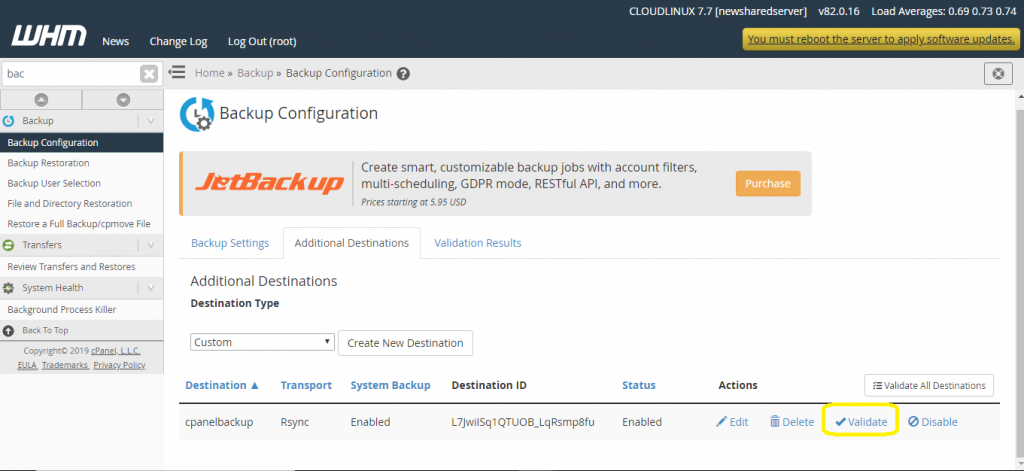 To know more visit Ideastack.
Last Edited: 06/05/2020